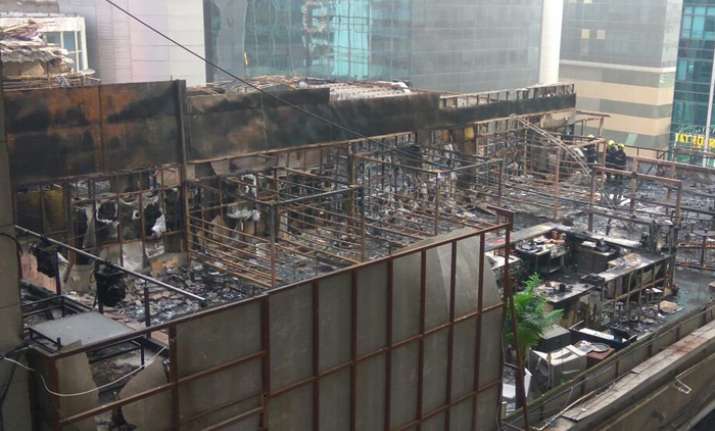 At least 15 people were killed and many injured after a massive fire broke out at in a building in Kamala Mills complex in Mumbai's Lower Parel in the wee hours of Friday. An FIR has been registered against the restaurant owner under section 304 of the Indian Penal Code (IPC).
The fire broke out on the third floor of the four-storey building on Senapati Bapat Marg, a commercial hub of the city, a civic official said.
AS IT HAPPENED:
12:40 pm: I have been to Kamala Mills , it is like a bhool bhulaiaya, has narrow lanes. So obviously there has been negligence, says Rajya Sabha MP Jaya Bachchan.
12:15 pm: Almost all died to asphyxiation, none of them have died to flames but due to fumes. A proper evacuation plan could have avoided this: Dr. Harish Pathak, KEM hospital forensic dept head.
11:05 am: BMC officials are responsible for the murder of people in Kamala Mills fire, second such incident in two weeks, when will the BMC wake up, asks BJP Mumbai MP Kirit Somaiya.
10:30 am: It is a very unfortunate incident, state govt and BMC will surely inquire into the incident and strict action will be taken against guilty: Minister of State Home Hansraj Ahir
I made several complaints regarding illegal structures in #KamalaMills' premises, but the BMC replied that there is nothing wrong here: Mangesh Kalaskar, Activist #Mumbai pic.twitter.com/npv20egqmN

— ANI (@ANI) December 29, 2017
09:27 am: "Anguished by the fire in Mumbai. My thoughts are with the bereaved families in this hour of grief. I pray that those injured recover quickly," tweets PM Modi
09:20 am: Postmortem report reveals that all the deaths were due to to suffocation, says Dr. Rajesh Dere
#WATCH: Last night visuals of fire at #KamalaMills compound in #Mumbai's Lower Parel, the incident has claimed 14 lives. pic.twitter.com/Ud2s6QXTFF

— ANI (@ANI) December 29, 2017
08:40 am: "Disturbing news about the fire in Mumbai. Condolences to the bereaved families and wishing the injured an early recovery. Commend the valiant efforts of fire-fighters and those in rescue ops," said President Kovind.
Mumbai: Top angle view of the #KamalaMills compound in Lower Parel, where fire broke out last night & claimed 14 lives. pic.twitter.com/Y9gLIcCfpd

— ANI (@ANI) December 29, 2017
08:11 am: All the 12 injured are out of danger now, says KEM hospital dean Avinash Supe.
07:48 am: Mumbai Police have booked the owner of the pub for negligence and other charges for the fire, suspected to be triggered by an electric short-circuit.
07:30 am: The blaze was reported around 12.30 am from a bistro The Mojo, a rooftop restaurant pub in The Kamla Trade House and quickly spread to another surrounding pub and a restaurant, said an official of Brihanamumbai Municipal Corporation (BMC) Disaster Control.
06:31 am: The injured have been rushed to King Edward Memorial (KEM) and Sion hospitals, an official from the BMC disaster management unit said.
06:22 am: As per reports, several news channels that operate from the compound have had to shut down their broadcast due to the building fire.
06:17 am: Several fire tenders, water tankers, emergency ambulance and police personnel rushed to the spot for rescue operation.
06:13 am: As per eyewitnesses, the fire was fast spreading and had also affected adjoining pubs.
06:10 am: The Kamala Mills building in Central Mumbai houses some commercial establishments including hotels.
06:07 am: The exact  cause of the fire remains to be ascertained.