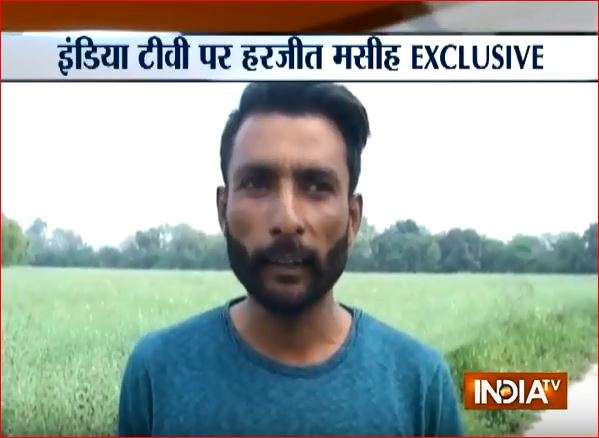 Harjit Masih, one of the 40 Indian workers taken hostage by ISIS when it overran Iraq's second largest city Mosul in 2014, today said that he was feeling vindicated after External Affairs Minister Sushma Swaraj's statement in Parliament confirming the killing of all 39 abducted Indians. 
Harjit Masih said that the Indian government had refused to believe him when he said three years ago that all workers, except him, were killed by the dreaded terrorist organisation.
Masih, who belongs to Gurdaspur, had managed to escape and claimed to have witnessed the massacre of the remaining 39 Indians. However, the Indian government had rejected his claims. 
"His was a cock-and-bull story," Swaraj said adding he had managed to flee the ISIS by faking his identity as a Muslim from Bangladesh.
Also Read | Govt says bodies of 39 Indians abducted in Iraq found, local inquiries led to mass grave in Mosul from where bodies were exhumed
However, Masih accused the government of concealing the truth and misleading the people of the country for three years.
"I didn't lie. I spoke the truth. The government misled the people and concealed the truth for three years. All 39 Indians were killed in Iraq 3 years ago," Harjit Masih said after Sushma Swaraj confirmed the killing of 39 Indians in Parliament.
Swaraj added that all the 39 Indians are dead and their bodies have been recovered.
Harjit said he was kept in custody for six months after a case was lodged against him by families of the "missing" 39 Indians on the directions of the Ministry of External Affairs.
"Now, since the government has admitted that the men are dead, the case against me should be withdrawn," Harjit Masih said.
Meanwhile, the family members of 39 Indians who were killed by ISIS in Iraq are shocked over Sushma Swaraj's statement in Parliament confirming  the killing of the abducted Indians. 
They have accused the government of keeping them in the dark.
Minister of state for External Affairs VK Singh will travel to Iraq for bringing back the bodies of these Indian who were killed and buried by the ISIS.
" We were hopeful of tracing them. Now it can be authentically said that these Indians are no more alive, VK Singh told India TV.
Watch Video: 39 Indians shot dead by ISIS in Iraq 3 years ago, says Harjit Masih
​