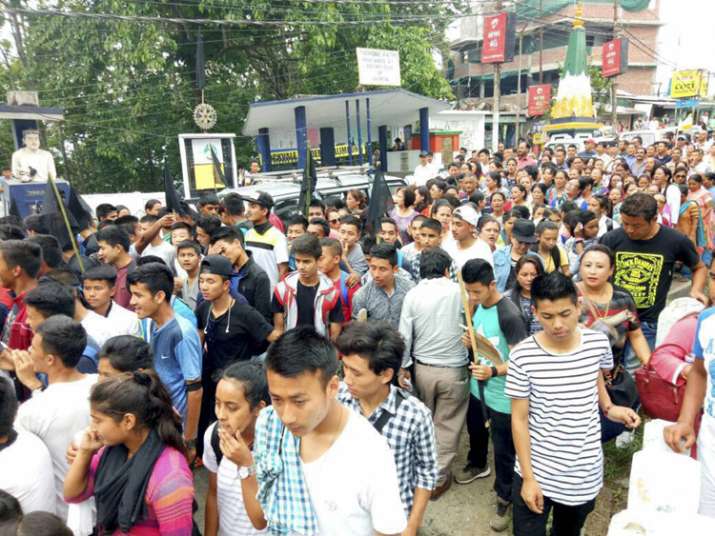 The Gorkha Janamukti Morcha (GJM) on Saturday intensified its demand for Gorkhaland and called an indefinite shutdown of government and Gorkhaland Territorial Administration (GTA) offices in Darjeeling hills from Monday. The call for strike has triggered fresh uncertainty in the region which earlier seemed to be returning to normalcy with the Army deployment.
The GJM, however, exempted schools, colleges, transport, hotels from the purview of the shutdown and said banks will remain open only twice a week. 
"There will be indefinite shutdown in GTA offices, banks and government offices from Monday. The banks will open twice a week for public transactions. We have exempted schools, colleges, transport, hotels from the purview of the strike," GJM general secretary Roshan Giri told reporters here after the organisation's central committee meeting. 
Banks will remain open on Mondays and Thursdays.
Every Monday there would be torchlight rallies in various wards of the hills from 7 p.m. to 8 p.m, while people will hold mass rallies every Sunday and Thursday in Darjeeling, Kalimpong, Kurseong and Mirik.
He also announced that all the signboards written in Bengali will be removed from Darjeeling, Kalimpong, Kurseong, Mirik, Siliguri, Terai and Dooars region and signboards only in English and Nepali would be allowed. 
"We will not attend GTA offices. Thrice a week we will organize torch rallies in the hills," he said. GTA and government offices will, however, remain open for four days from June 27. 
GJM supremo calls for 'non-cooperation' with state government 
GJM supremo Bimal Gurung called for "non-cooperation" movement with the state government and accused it of looting resources from the hills and depriving it of basic amenities. 
He said that agitation in Darjeeling hills will not stop until and unless a separate Gorkhaland is formed. "If TMC wants to play with fire they will regret it," he said. 
"We will appeal to the people not to cooperate with the state government. It is taking away so much resources from the hills and what are the people of the hills getting? We are getting nothing. 
"This has to stop. We will fight for our freedom and will not allow the divisive politics in the hills," Gurung said. 
The GJM leadership has written to the Centre urging it to look into the Gorkhaland demand.
Gurung has written to Union Home Minister Rajnath Singh complaining against the failure of the GTA run by his party and the highhandedness of the state government which, he accused, of "committing atrocities on the hill people. 
Army patrols streets, Banerjee claims peace
The Army continued to patrol Darjeeling, Kalimpong and Kurseong towns, where no fresh violence was reported on Saturday.
Six Army teams, each comprising 43 personnel, have been deployed in the three hill towns after Thursday's flare up during a protest by the GJM.
Three Central Reserve Police Force companies were also camping in the towns.
The state government has already removed Darjeeling's Superintendent of Police Amit Javalgi, and sent him on compulsory waiting. A team of three senior Indian Police Service officers have reached the hills to monitor the situation.
Earlier in the day, Banerjee claimed peace had returned to the hills and announced that the elections to the GTA might be held anytime soon as the present body's term ends on August 2.
Talking tough after a high-level meeting attended by top bureaucrats and police officer at Uttarkanya, the state secretariat in North Bengal, she reiterated that strict legal action would be taken against those behind the recent violence.
Police have already lodged cases against GJM activists including Gurung on various counts including criminal conspiracy, arson, and incitement.
(With agencies)