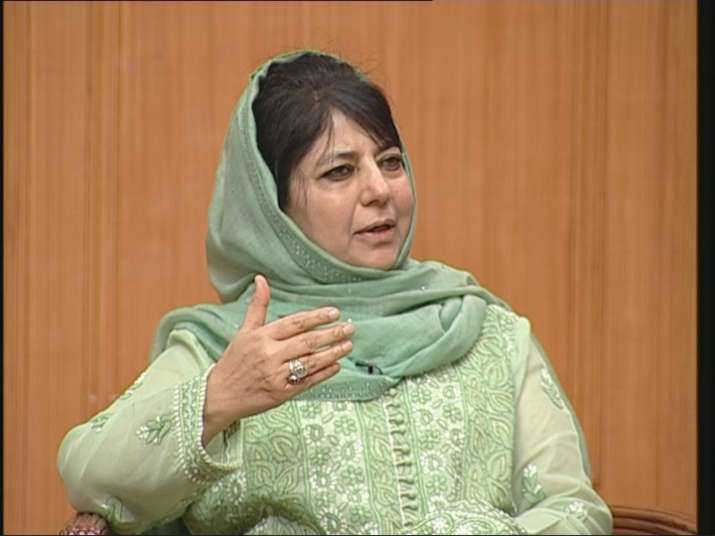 Former Jammu and Kashmir chief minister Mehbooba Mufti on Friday dismissed reports of her party PDP trying to form the new government in Jammu and Kashmir in alliance with Congress.
Appearing in "Aap ki Adalat" show hosted by India TV Chairman and Editor-in-Chief Rajat Sharma, Mehbooba Mufti made it clear that no discussion  is going on with the Congress in this regard.
The former J&K chief minister also clarified that she had not held any discussion with former Congress president Sonia Gandhi on this matter. 
Mehbooba Mufti's clarification came in the way of speculations that efforts are underway for the formation of a new government in Jammu and Kashmir.
Two different kinds of speculations are rife in political circles for last one week, According to first, BJP is behind the rebellion in PDP and the party  may try to form the new government in alliance with support of rebel PDP MLAs and independents.
According to the other theory, Mehbooba is also trying to form a new government with the support of Congress.
However, the PDP chief rejected all such speculations.
On BJP's reported efforts of govt formation, Mehbooba said that she does not think the saffron party will commit any such mistake. However, she added that the rebel legislators of her party are acting at the behest of New Delhi.
Meanwhile, the rebellion in PDP is gaining momentum with each passing day. Till now, six legislators of the party- five MLAs and one MLC- have publicly spoken against Mehbooba.
They have alleged that the former chief minister didn't have time to meet them.
Watch: Mehbooba Mufti denies reports of PDP trying to form govt with Congress
Watch Mehbooba Mufti in Rajat Sharma's show Aap Ki Adalat on Saturday at 10 pm on India TV. The repeat telecast will take place on Sunday at 10 am and 10 pm.