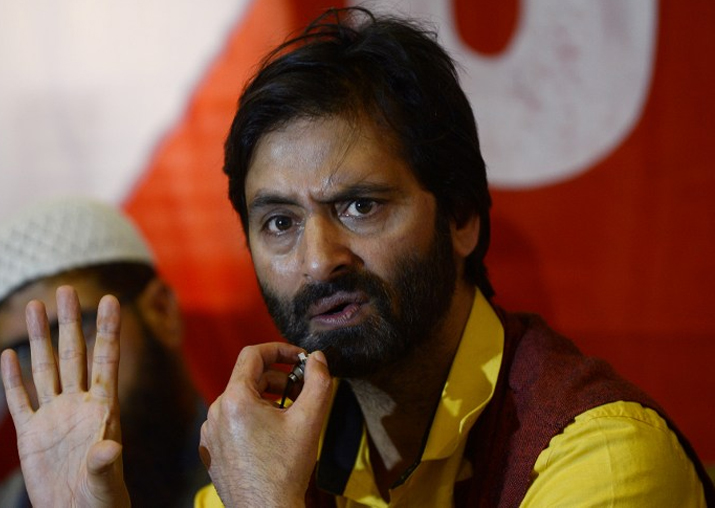 JKLF chief Yasin Malik today said the Enforcement Directorate (ED) notice against him for alleged forex violation was a "means of coercion" to meet the Centre's newly appointed interlocutor on Kashmir, adding that such tactics cannot break his spirit.
"The Centre is arresting family members of separatists and militants. The son of (Hizbul Mujahideen supremo) Syed Salahuddin was recently arrested by the National Investigation Agency (NIA). The NIA and ED are sending a series of notices. What is the aim behind all this? ...such notices will not break our spirit, rather will increase it. We are ready to sit in prison," he told reporters here.
The Enforcement Directorate had recently sent notice to Malik and a Srinagar-based couple for alleged forex violation of Rs 48.23 lakh under provisions of the Foreign Exchange Management Act (FEMA), officials said.
The case relates to a 2001 FIR registered by the Jammu and Kashmir police, which seized USD 1,00,000 (about Rs 48.23 lakh as per conversion rates at the time) from Srinagar-based Mushtaq Ahmad Dar and his wife Shamima alias Shazia aias Bitti.
Dar reportedly told the police that the money was given to him by a person in Nepal and was to be handed over to the JKLF chief.
Malik was arrested in the case, but was later let off on bail.
The separatists in the Valley, including the JKLF chief, have expressed their unwillingness to meet the Centre-appointed interlocutor on Jammu and Kashmir.