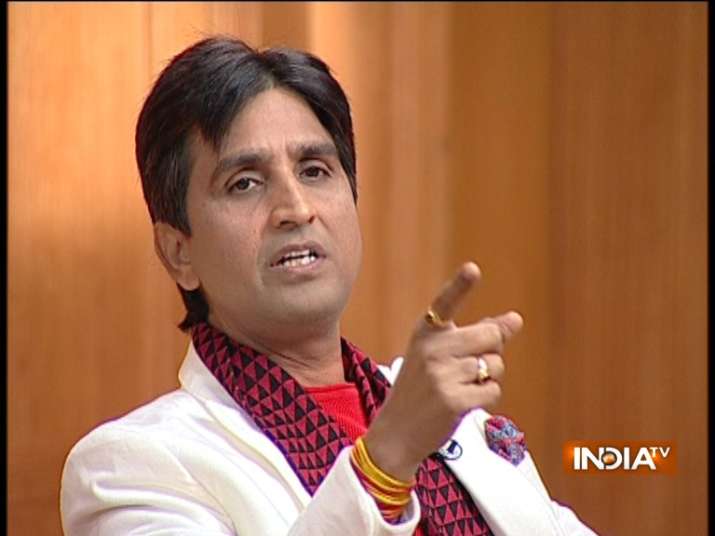 In open defiance of the party leadership, Aam Aadmi Party leader Kumar Vishwas has hit out at party supremo Arvind Kejriwal saying that the party does not belong to "a coterie of 2-3 persons". 
Appearing in Rajat Sharma's show 'Aap Ki Adalat', to be telecast tonight on India TV, poet-turned-politician Kumar Vishwas said: "Aam Aadmi Party does not belong to a coterie (mandali) of two or three persons, the party belongs to lakhs of workers who are there outside."  
Asked what was his fault for not being considered for Rajya Sabha, the poet replied with this Urdu couplet: "Mere lahze mein ji-huzoor na tha, Isse zyada mera kasoor na tha. (My only fault was that I was never sycophantic)"
Kumar Vishwas reminded that it was the great strategist Chanakya who, when charged with sedition, replied that "only Nanda dynasty is not Magadh empire." 
"Similarly Aam Aadmi Party does not belong to a coterie of two or three persons, it belongs to lakhs of workers waiting outside. Two or three persons may be speaking out against me, the common party worker may be addressing any leader as 'ji', but he addresses me as 'Kumar bhaiya', and this is my strength in the party".
The dissident AAP leader listed out several instances in the recent past when he was sidelined by the party leadership. "In Punjab, I had written poems against drug trafficking. I requested our leaders at least five to six times to allow me to campaign there, but I was not allowed to campaign in Punjab. 
"I was told that the 'fanatic movement' in Punjab was unhappy with me. Even today whenever I visit the US or elsewhere, 15-20 Khalistani supporters stage protest outside my shows with anti-India placards. For me, it is a matter of pride that those who are anti-India, consider me as an enemy, but I will never waver from my stand. 
"Similarly I was asked to do only door-to-door campaign during Goa polls. In Delhi, our party did not lose MCD polls because of me, there were deficiencies in our party's policies and strategy."
Comparing himself with the Mahabharata warrior Abhimanyu, Kumar Vishwas said, "I cannot say whether I have won or lost, but in the battle for truth, my fame as a warrior will be written in bold letters, for which I, my parents and my party workers will feel proud of."
The dissident AAP leader said, he had opposed when Arvind Kejriwal had demanded from the Modi government that it must produce evidence of the surgical strike against Pakistan. 
"I was asked to speak out on this, but I refused to do so saying it would sent a wrong message. At that time, there were tears in my eyes, when I went to him(Kejriwal) and told him not to say this. It would be published on the front pages by Pakistani media. 
"I told him it was a question of our troops' morale, and he (Kejriwal) replied, Modi should go first, then everything will be okay. This was his outlook.  I am not in favour of war, but when a mother sends her son to battle, a wife sends her husband to the front, and the soldier returns home to find that in the name of politics, people's representatives are demanding evidence (of surgical strike), what will he think about us?"
"For many nights, we listened to abuses at kavi sammelans (gathering of poets). As a poet I had boosted the morale of our jawans in Siachen and Kargil. Should I as a poet remain silent? Did I give a wrong advice (to Kejriwal)? I was not his (Kejriwal's) enemy, I was his brother, I wanted that if he was a patriot, the people of India should view him so, but I had to bear the loss. Sometimes you lose your life in accidents while saving people."
"I did say in the past that I am not in politics  for posts or power,... but I did not say while joining politics that the fruits of my seven years of struggle will be handed over to 'Ajgar'chhap' (python-like) Guptaji". 
"The question is not of (being denied ticket to) Rajya Sabha. For the last seven months, I had become a mere pawn. Shivgami Devi of this Mahishmati (kingdom) is somebody else, who bring in a new Katappa every time to kill Bahubalis like me."
Kumar Vishwas admitted that he had once said, that out of the top three (in AAP), one became the CM, the other Deputy CM, and he (Vishwas) was left out. 
"It so happened that when the MLA who had come over from LJP (Amanatullah) attacked me, I had said this in a private conversation, which was recorded secretly  by the brother-in-law of my 40-year-long friend. I always speak from my heart. I had also told the leaders that had the people not handed over power to you, would you have insulted me in this manner?"
When Rajat Sharma quoted Delhi Deputy CM Manish Sisodia's remark that Kumar Vishwas' name was not even in the list for consideration (for RS ticket), Vishwas replied: "Even the Panchatantra says that if you plot something, do it properly. They're now saying my name was not there and the media was only speculating, but I was not invited to the PAC (political affairs committee) on grounds that my name was there for consideration. 
"As far as the names considered by the PAC is concerned, it so happened that these persons had already prepared their affidavits on December 30, days before the meeting. 
"Even small parties maintain some sense of decorum and transparency. They (leadership) want to spread the party's network in Andamans, but they should not treat the party workers as 'Andaman'. Party workers understand everything. At least they should prepare their plot properly. What's the point in saying my name was not there? "
Kumar Vishwas said: "Nobody from the party (leadership) consulted me over Rajya Sabha tickets. Now some of the leaders are saying what is the need for consulting workers on such issues. They should know that during the Commonwealth Games scam, Sonia Gandhiji too had this misconception that the people or party workers do not know anything. 
"When we fought Delhi elections after our nine-month-old government resigned, Modiji too had this misconception that he would win Delhi for his party. But the people know everything, and they wait till the 99th abuse by Sishupal, and then they chop off the head of arrogance. I pray that God save such arrogant leaders from the wrath of people."
Sishupal was a king who hurled abuses at Lord Krishna 99 times, and when he abused for the 100th time, Lord Krishna chopped off his head with his Sudarshan chakra. 
Asked by Rajat Sharma why he, as "a younger brother", did not speak to Kejriwal, Kumar Vishwas replied: "I tried, but could not talk. Yogendra (Yadav) was his elder brother, Anna Hazare was like his father, and I his younger brother. I still wish that he remains  a leader, and let the party expand."
Asked why Arun Shourie, Raghuram Rajan, and Yashwant Sinha were approached for RS tickets by AAP, but they declined, Kumar Vishwas replied: "There was a time when big leaders lent us support saying we were part of a big battle. We should understand why as many as 18 leaders refused this time to accept our party's ticket. Raghuram Rajan is a great man, but when his PA conveyed that he does not want the ticket, it was an insult to our party. An insult to the toil of lakhs of party workers. 
"There seems to be something wrong with us. To say, that the whole of India fears Modi is wrong. People like me threw their jobs to fight the Congress. I worked in a university for 17 years, but one day in a TV debate when Congress leader Digvijaya Singh asked me, how many days do you go to college to teach, I threw my job and joined the movement. Similarly, thousands of people threw their jobs, but why is it so that today nobody is ready to accept our Rajya Sabha ticket?"
Kumar Vishwas gave a left-handed compliment to Congress saying "I must congratulate the Congress for sending its defeated candidate to the Rajya Sabha on AAP ticket."
He described how during the Delhi assembly polls, he was addressing a rally in Moti Nagar, when Sushil Gupta, the Congress candidate passed by in his carcade and showed him a 'V' sign. "I said on the mike that the people will crush his money power, and they did. He lost the election, but now he will be our Rajya Sabha member."
Aap Ki Adalat with Kumar Vishwas was aired on Saturday, 10 pm on India TV. The repeat telecast will take place today at 10 pm.