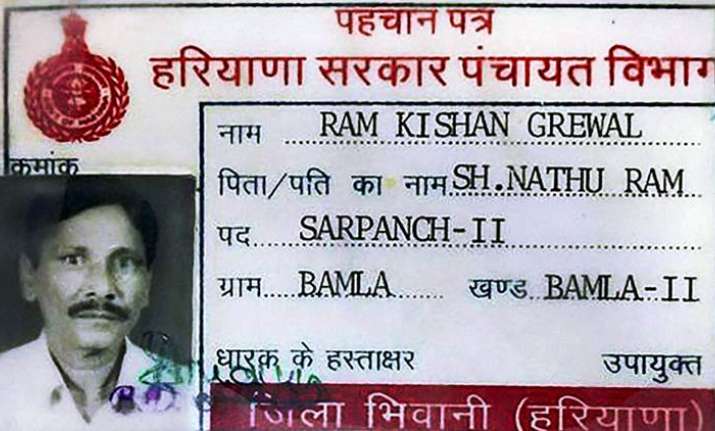 In a new twist to the suicide of ex-serviceman Ram Kishan Grewal, it has been revealed that he had taken a Rs 3.5-lakh loan against his pension account that could have added to his frustration forcing him to commit suicide.
According to a report in The Indian Express, Grewal had taken this loan in May 2015 from the Bhiwani branch of State Bank Of India (SBI). 
However, the report says that even Grewal's family is unaware of this loan although the Bhiwani SBI branch confirmed it to The Indian Express. 
"In May last year, Grewal had taken Rs 3.5 lakh loan against his pension account," an officer from SBI was quoted as saying by IE. 
But Grewal's son Jaswant says that nobody in his family is aware of his father's transactions in the bank.
"Neither my brothers nor I know about our father's transactions in the bank," he said.
Grewal drew a pension of Rs 21,927 before OROP was implemented. From April this year, after implementation of OROP, he was drawing a pension of Rs 22,608.
Grewal's son revealed that his father used to say that his pension would have increased to around Rs 30,000 "if the government had implemented OROP correctly."
According to the IE report, the Bhiwani branch of SBI has rejected the claims that Grewal's lower pension was a result of the bank "miscalculating the amount".
"Since April this year, Grewal has been paid Rs 22,608 and there is no chance of any miscalculation. He did not provide us with any complaint regarding this issue," Bhiwani Branch Manager Ram Singh told The Indian Express. 
Singh further said that calculation of the pension depends on Pension Payment Orders (PPO) sent by the previous employer to the Centralised Pension Processing Cell of State Bank Of India in Panchkula. 
"The bank disburses the pension according to the PPO issued by the employer and in this case too we have done the same," he added.