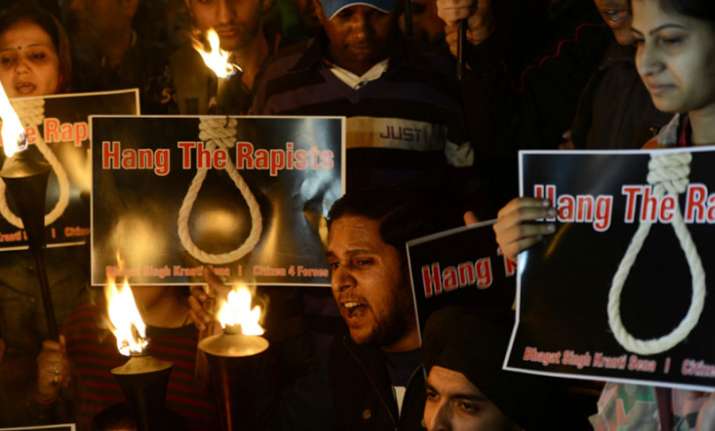 Even as President Ram Nath Kovind gave his go ahead to the ordinance paving way for providing stringent punishment, including death penalty, for those convicted of raping girls below the age of 12 years, four complaints of sexual assault were registered in Uttar Pradesh, of which three cases involved minor victims.
Rampur
In Rampur, a seven-year-old girl was allegedly raped in a forested area about 30 km from the district headquarters. The incident took place on Saturday.
The minor's father told police that his daughter had gone to fetch some water when a man abducted her and sexually assaulted her in a secluded area. 
The man, who fled the spot leaving the girl unconscious, was later nabbed by the police.
"The girl was playing outside her house at around 10 am. Her parents, who are farmers, and elder siblings, were at the farm when the youth, Sirasat (19), lured her to a nearby farm and sexually assaulted her. He fled and the girl came back home and informed her parents. The police were called and within two hours, the accused was arrested with the help of some villagers," said Rampur SP Vipin Tada. 
Muzaffarnagar
A 15-year-old girl was allegedly sexually assaulted by a man when she was alone at her house in Rohana Kalan village here, the police said today. 
The accused was caught and handed over to the police when the victim raised an alarm, Circle Officer Harish Bhadoriya said. 
According to a complaint filed by the victim's father, Johny (22) barged into their house last night and sexually assaulted his daughter.
The accused has been charged under the POCSO Act and relevant sections of the IPC, the police added.
Kannauj
In yet another case of minor being sexually assaulted, an 11-year-old girl was allegedly raped by her uncle in Vishnugarh area of Kannauj. 
The girl was reportedly alone at home when the incident too place. 
When her father returned, he saw his daughter in a bad condition. On learning that his brother had allegedly sexually assaulted her daughter, he went to the police station to file an FIR.
Superintendent of Police (SP) Kannauj, Keshav Chandra Goswami told ANI that a search operation was launched to nab the accused.
Moradabad
A minor was allegedly gangraped by three men in Moradabad, and a video of the whole incident was filmed.
The minor told the police that when she used to go to the fields, the three men used to harass her constantly. She was reportedly alone at home and was doing household chores when the trio barged into her house and allegedly sexually assaulted her.
Superintendent of Police (SP), Civil Lines, Aparna Gupta said that the police launched a search operation against the culprits and efforts were on to delete the video that became viral on social media.
Child rights activists oppose death penalty for rape of minors
Even as a number of leaders have advocated death penalty for rape of girls aged below 12, child rights activists across the country have come out against the government's decision to amend the Protection of Children from Sexual Offences (POCSO) Act for this purpose. 
The Union Cabinet on Friday approved an ordinance to allow courts to award the death penalty to those convicted of raping children up to 12 years of age.The President of India gave his go ahead to the same on Sunday. 
"In a country where there is no certainty of conviction, this government wants to bring in more stringent laws. In a country where most rapes are perpetrated by family members, invoking death penalty will only increase the chances of acquittal.
"Most of the cases will not be reported. There is a reason why the death penalty for child rape exists in only about 13 countries or so, most of them Islamic," said Bharti Ali of HAQ centre for child rights.
According to the data of the National Crime Records Bureau, 95 per cent of the rapes are committed by family members. The conviction rate in cases of rapes of women is around 24 per cent. It is 20 per cent under the POCSO Act.
"I believe that the only deterrent in rape cases is conviction in not more than 90 days. Worldwide we have seen that, more than strict punishment, it is speedy justice that works as a deterrent. 
"I fear that with the death penalty, most people will not report child rapes, as in most cases the accused are family members. The conviction rate will come down further," Vinod Tikoo, a former member of the National Commission for Protection of Child Rights, said.
According to a recent study by Kailash Satyarthi Children's Foundation, it would take the courts two decades to clear the backlog of cases related to child sex abuse.
Activists say the government should focus more on strengthening the existing laws, ensuring safety of victims and witnesses, speedy trials, and awareness generation.