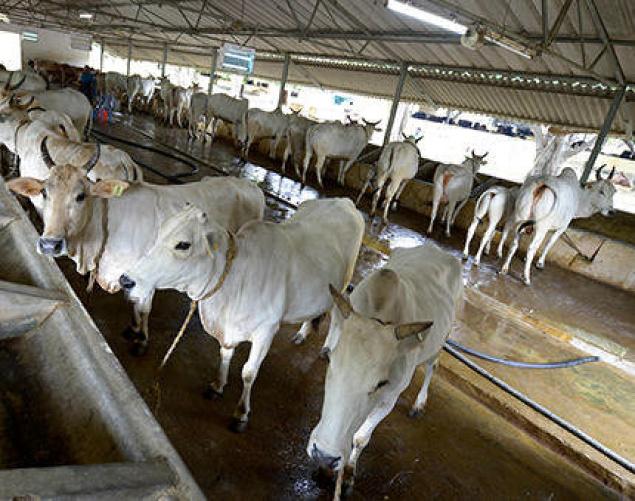 Jajgir-Champa: Chhattisgarh Chief Minister Raman Singh on Wednesday launched JK BovaGenix that will focus on producing in-vitro fertilisation (IVF) embryos on a large scale from indigenous cattle breeds. 
This step has been taken in order to protect  indigenous cow breeds and the programme is  aimed at boosting milk production from cow breeds, like Gir, Sahiwal, Ongole and Tharparkar, by creating IVF embryos that can either be planted in surrogate females or be frozen for future use, a first in the country.
Located in Gopalnagar village in Jajgir-Champa district of the state, JK BovaGenix is a new arm of JK Trust - an NGO which has been working towards cattle and buffaloes breed improvement using artificial insemination technology for last 40 years.
It is for the first time in India that the IVF technology is being used in indigenous cattle breeds. In 2012, a calf was born with this technique but the attempt was unsuccessful.
The purpose is to protect and propagate indigenous cow breeds and boost the country's milk output. 
"This is an initiative that my government will support and it should be further developed with assistance from other states," Singh said after the launch. 
The CM also launched mobile cattle embryo transfer and IVF lab. 
JK Trust CEO Shyam Zawar said, "We have successfully established pregnancies in 28 cattle with transfer of fresh and frozen IVF embryos." 
The embryos have been created using the ova from donor mother's ovary of indigenous cow breeds like Gir and then combined with male semen of the same breed. The embryos created in lab are later transplanted into a surrogate cows to produce high pedigree cattle, he said. 
The transfer of frozen IVF embryos are being done for the first time in the country, he said. 
Initially, the mobile lab will be made available in Chhattissgarh and later it will be introduced in other states also, he added. 
Speaking on the occasion, Animal Husbandry Commissioner in Union Agriculture Ministry, Suresh S Honnappagol said, "At present, male cattles are being exploited with use of artificial insemination technology. 
"The IVF technology will help in tapping both male and female cattle for multiplying population of indigenous cattle breeds." 
Artificial insemination technique is one of the assisted reproductive technologies that the Centre is promoting to conserve indigenous cattle and buffalo breeds, he said. 
This is in line with the government's programme Rashtriya Gokul Mission to rapidly multiply and upgrade indigenous breeds of cattle such as Gir (Gujarat), Sahiwal (Punjab/Haryana), Tharparkar (Rajasthan) and 0ngole (Andra Pradesh), he added. 
JK Trust is an initiative started by textile and FMCG conglomerate JK Group. 
There are about 40 cattle and 13 Buffalo indigenous breeds.
(With Agency input)