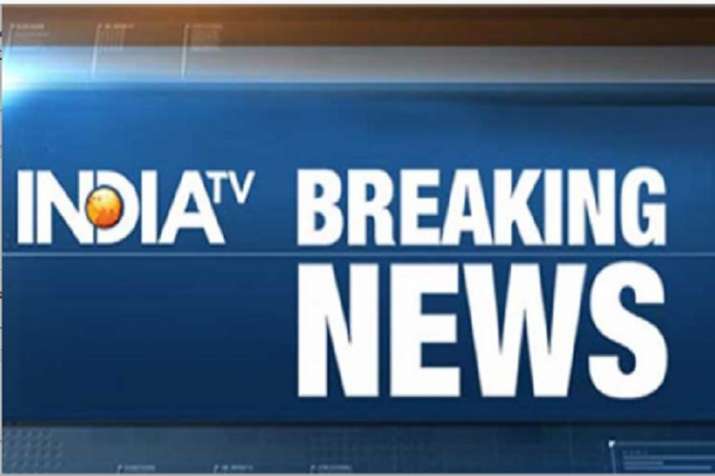 Daily dose of news plays very important role in our daily life. For some people, the morning is incomplete without knowing about what's happening across the world. Some digital-savvy people have a habit of consuming news even when they are travelling or in their free time. In today's world, where people rely on news websites for everything that's happening around, IndiaTV News provides you all breaking news, latest news, breaking story videos, Live TV and top shows of IndiaTV, country's leading news channel on a single platform to ensure you don't miss anything important.
Internet, Twitter, Facebook are buzzing with breaking news and news alerts from India and rest of the world. You can find here all breaking news alerts and latest news updates on just one page. IndiaTV Digital covers all top news as and when it happens and ensures its readers don't miss anything important.
BREAKING NEWS OF NOVEMBER 2
05:17 pm: Rank within top 50 on ease of doing business is not far away, says PM Modi.
05:12 pm: India has done what people couldn't imagine, PM Modi on India leaping 23 places to 77th rank on Ease of Doing Business Ranking.
05:09 pm: PM Modi says 12 historic decisions will boost small and medium enterprises.
05:05 pm: Decision has been taken to include the Chief of Integrated Defence Staff to the Chairman Chiefs of Staff Committee (CISC) of the Indian Forces in all the Commanders conferences of the Army, Navy and Air Force; and to give significance to Andaman & Nicobar Command
04:59 pm: Chief Justice of India Ranjan Gogoi says he was in awe with historic speed of Central government of clearing the way of swearing in ceremony of four judges to the SC within 48 hours after SC Collegium sent their names.
04:43 pm: One terrorist of Al-Badr outfit arrested in Handwara today. Arms and ammunition recovered. More details awaited. 
03:52 pm: Compensation of Rs. 5 lakhs to be given to the families of the deceased: Assam Minister Keshab Mahanta on killing of 5 people by ULFA terrorists in Tinsukia, yesterday
03:50 pm: Supreme Court orders that no advance notice will be required to give to defaulters before sealing residential premises in Delhi which are misused for commercial purposes. Supreme Court fixes a time limit of 48 hours to seal such premises.
03:47 pm: Sensex rallies 579.68 points to end at 35,011.65; Nifty climbs 172.55 points to 10,553.
2:29 pm: Delhi's Patiala House Court: Bail granted to Ashish Pandey, son of former BSP MP Rakesh Pandey, who brandished a gun at a 5-star hotel. Police had filed chargesheet against him yesterday.
1:54 pm: Bombay High Court has refused to give interim stay on the construction of Chhatrapati Shivaji statue in the Arabian Sea near Mumbai
1:41 pm: 2008 Malegaon blasts case: List of 286 witnesses, 102 panch witnesses & 216 documents submitted before the Special NIA Court, Mumbai.
1:25 pm: Police and army have detected an IED at Nikas village between Pulwama-Shopian road of south Kashmir. They are defusing the IED. 
1:17 pm: Supreme Court issues notice to Rajasthan Chief Minister Vasundhara Raje and her son Dushyant Singh on a plea seeking registration of FIR against them for allegedly getting compensation of Rs 1.97 crore by selling government land to NHAI for widening a national highway in 2010
12:59 pm: Internet services have been suspended in Jammu following the murder of BJP J&K Secy Anil Parihar & his brother in Kishtwar yesterday. Internet services have been suspended in Kishtwar too.
12:31 pm: Delhi High Court dismisses a PIL seeking orders to allow women of all ages to get entry in all temples, churches, mosques. The plea also called for reopening of women only Attukal temple and Kamakhya temple for entry of men.
12:20 pm: Rafale is an open and shut case. It is simply a PM Modi-Anil Ambani partnership: Congress President Rahul Gandhi 
12:12 pm: Supreme Court refuses to entertain the appeal filed by the CBI in Bofors case
12:03 pm: Supreme Court refuses to entertain petitions challenging the ordinance on triple talaq. A three-judge bench of the Supreme Court, headed by Chief Justice of India (CJI) Ranjan Gogoi refused to entertain a number of petitions.
11:41 am: Supreme Court quashes FIRs registered against BJP MP Anurag Thakur for alleged irregularities in grant of land on lease for Dharamshala Cricket Stadium.
11:32 am: BJP has also released a list of 24 candidates for Mizoram and 28 candidates for Telangana assembly elections
11:31 am: BJP releases first list of 177 candidates for Madhya Pradesh elections.
10:40 am: Tamil Nadu govt fixes time slot for bursting of crackers during Diiwali. People will be allowed to burst crackers between 6 am & 7 am and 7 pm & 8 pm during the festival. State Pollution Control Board will monitor air quality 7 days before & after the festival in all corporations.
10:20 am: Body of a 60-year-old man was found in the forest area in Pathanamthitta District's Laha yesterday. BJP has called a 12-hour shutdown in the district alleging he had died due to police brutality during Sabarimala protests last month.
9:50 am: Two people including a model Angel Gupta arrested by Delhi Police in connection with the murder of a school teacher. The other person arrested is the husband of the victim.
 9:35 am: State govt is making all efforts to provide job opportunities to local youth. We want more than 80% jobs in pvt sector for local youth&good local workforce for industries. We're making arrangements for technical&soft skills to be made available to local youth: Gujarat CM 
9:10 am: All Assam Bengali Youth Students Federation has called a 12-hour shutdown in Tinsukia in protest against the murder of 5 people killed by ULFA terrorists in Bishnoimukh village near Dhola-Sadiya bridge in the district yesterday.
8:45 am: Why was camera looted? Because it had recorded evidence of what happened in the first few minutes of targeted media ambush. Multiple bullet wounds and skull fractures on the martyred cameraman in no ways indicates it was by mistake: Dantewada SP Abhishek Pallav on Naxal statement
8:20 am: One terrorist killed in joint operations in Handwara: Northern Command, Indian Army.
7:50 am: Pir Panjal Range received fresh snowfall this morning
7:15 am: A ruckus was created at Congress office in Raipur last night following arguments over Raipur South seat. Party leader R Tiwari says,"it's Congress workers' sentiments for the seat as they have right to speak.Punia ji had a discussion with them after which they left".
7:00 am: A green corridor was provided by Hyderabad Traffic police from Yashoda Hospitals in Secunderabad to Care Hospitals in Nampally for live heart transplantation yesterday. The distance of 8 kms was covered in 7 minutes.
6:35 am: Petrol and diesel prices in Delhi are Rs 79.18 per litre (decrease by Rs 0.19) and Rs 73.64 per litre (decrease by Rs 0.14), respectively. Petrol and diesel prices in Mumbai are Rs 84.68 per litre (decrease by Rs 0.18) and Rs 77.18 per litre (decrease by Rs 0.14), respectively.
6:20 am: Delhi Police yesterday arrested three people including the husband of a lady teacher who was shot dead in Bawana village on October 29. Search is on for the persons who were hired to kill her.
6:00 am: State Department spokesperson Heather Nauert offered the job of US Ambassador to the United Nations.