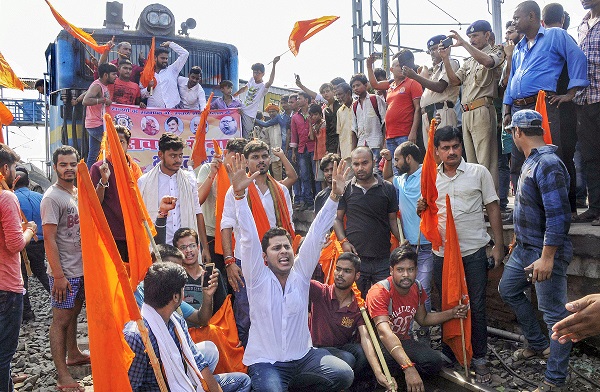 A call for Bharat Bandh on Thursday evoked mixed response in the country, with normal life taking a hit in Bihar. Life in some other states, however, remained unaffected in response to the protest by some upper-caste groups against the recent amendment approved by Parliament to overturn a Supreme Court judgment on the Scheduled Caste/Scheduled Tribe (Prevention of Atrocities) Act. Earlier this year, the apex court had removed the strict provision of mandatory arrests under the Act. This decision had triggered nationwide protests by Scheduled Castes organisations, forcing the Centre to bring an amendment to the Act during the Monsoon Session to overrule the SC order.
Movement of trains disrupted in Bihar, processions taken out
Normal life was hit in various parts of Bihar Thursday and train services were briefly affected in the state capital and Rajgir town. The bandh supporters, owing allegiance to several nondescript organisations, staged a demonstration in front of the BJP state headquarters at Birchand Patel Marg raising slogans against the "betrayal by the very party we have been voting for" . The gate of the premises remained locked from inside.
Earlier, the bandh supporters stormed the Rajendra Nagar Railway Terminus in the state capital and disrupted movement of trains for about half-an-hour. Bandh supporters also took out processions in the Ashok Rajpath area where Patna University and colleges affiliated to it are located.
Shops and commercial establishments largely remained closed in most parts of the state capital, but banks and government offices functioned normally. Many private schools, though, declared a holiday in view of the difficulties students and teachers were likely to face while travelling.
The shutdown had a strong impact in Muzaffarpur, where bandh supporters blocked various points inside the town, besides the national highways running along. They also burnt tyres at many places and clashed with the police personnel who tried to stop them from causing inconvenience to the general public.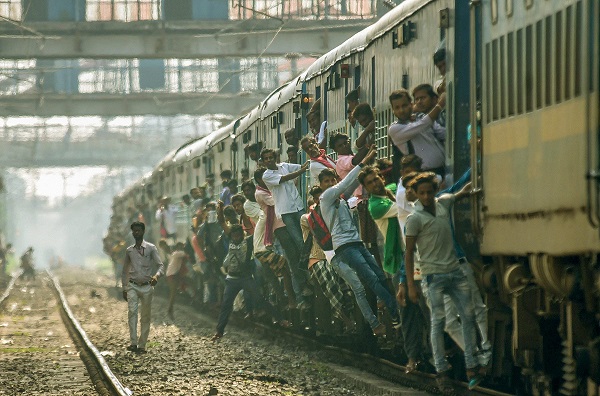 A large number of bandh supporters blocked traffic on the Gaya-Bodh Gaya and Gaya-Rajgir roads. In Nalanda district, the movement of trains was disrupted on account of a demonstration staged inside the Rajgir railway station, official said. Arson was reported in many parts of the Biharsharif town. The bandh had its impact in Begusarai as well where traffic was disrupted on national and state highways. The markets remained closed in urban as well as rural areas and people, largely, chose to stay indoors. In Jehanabad, the bandh supporters stopped trucks on the Arwal More and deflated tyres, causing a massive traffic jam on NH83 and NH110. Bandh-related disturbances were reported from various parts of Bhagalpur, Nawada, Bhojpur and Sheohar districts as well. 
Madhya Pradesh remains largely peaceful amid tight security arrangements
Most private schools and petrol pumps in Madhya Pradesh remained closed, while markets and business establishments in parts of the state were shut in view of the 'Bharat Bandh' call.
Police said the bandh has been observed in a peaceful manner with no reports of violence or clashes so far. 
The state government has imposed prohibitory orders under section 144 in all the districts of the state ans security has been tightened as a precautionary measure.
Majority of private schools in the state remained shut, while in several districts including Bhind, Shivpuri and Gwalior, the local administration declared a holiday for educational institutions as a precautionary measure. Petrol pumps across the state have also been kept shut.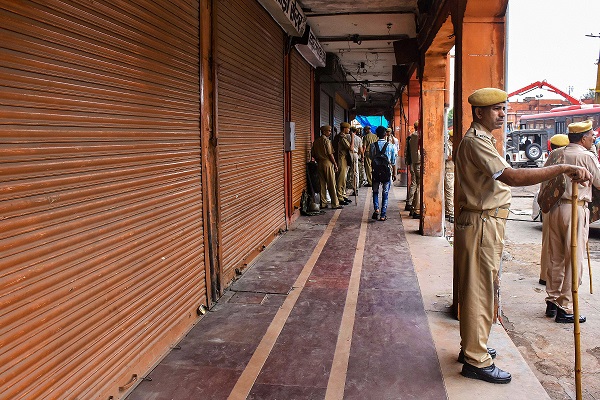 Brahma Samagam Sawarna Jankalyan Sangathan's national president Dharmendra Sharma said about 150 organisations of upper castes and OBCs are participating in the bandh.
The bandh is effective in almost the entire state, especially Katni, Vidisha, Sehore, Dewas, Indore, Gwalior, Jhabua, Chhattarpur, Mandsaur, Sagar, Ujjain and other cities, he said.
In Chhindwara, the Lok Sabha constituency of Madhya Pradesh Congress chief Kamal Nath, markets remained shut.
Bharat Bandh fails to evoke much response in Punjab, Haryana
Shops, business establishments, schools and educational institutions remained open at most places in Punjab. The maximum effect of the bandh was seen in Phagwara, which observed a complete day-long bandh.
A large number of activists owing allegiance to a group called 'General Samaj Manch' staged a peaceful dharna at Gandhi chowk in Phagwara in the morning. Markets and commercial establishments as well as schools and colleges remained closed in Phagwara. Even chemists shops remained closed.
Breakfast eateries, serving morning-time snacks and breakfast items, remained closed while push-carts (rehris), vegetable and fruits vendors remained off streets. Buses plied in Phagwara but with scanty passengers, officials said.
Security was strengthened in Phagwara for maintaining law and order. Kapurthala SSP Satinder Singh said 400 cops, including commandos, were deployed. He said the bandh passed off peacefully and no untoward incident was reported. In Ludhiana, a group of youth staged a protest in Dhandri Kalan and burnt an effigy of the central government.The police said no untoward incident was reported in the state. In neighbouring Haryana, the bandh failed to evoke much response.
Life normal in UP, Yogi says Bharat Bandh call has 'no meaning' but all have right to express
"It (Bharat Bandh call) has no meaning. People have their feelings. In a democracy everyone has the right to express themselves," Uttar Pradesh Chief Minister Yogi Adityanath said when asked by reporters to comment on the 'bandh' call against the SC/ST Act.
Defending the provisions of the Act, Adityanath said his government will ensure that the law is not misused.
"The BJP government is committed towards the welfare of people and development. We never play politics of caste and religion. The law is to protect the downtrodden. The government will ensure that it will not be misused," he told mediapersons in Gonda where he had gone to visit flood-hit areas.
Reports from districts across the state said life was by and large normal despite the bandh call. There was no report of any untoward incident, officials said.
'Bharat Bandh' witnesses good response in Rajasthan
The call for 'Bharat Bandh' given by several groups evoked a good response in Rajasthan where many shops and business establishments, schools and other educational institutions remained closed on Thursday. The police said no untoward incident has been reported in the state so far.
Shops were shut in Jaipur, Karauli, Pratapgarh, Udaipur, Pali, Nagaur and other districts. Schools too remained closed in view of the bandh.
Meanwhile, members of Samta Andolan Samiti, an organisation which campaigns for changes in the caste-based reservation system, alleged 'suppressive action' by the state government as the police detained their leaders.
"Our leaders were detained by the police which was an action to suppress our voices. We neither had any plan for violence nor we did anything which disturbed law and order, but the police took action," a Samta Andolan Samiti member Yogendra Singh said.
DCP West Ashok Gupta said a leader of Samta Andolan Samiti, Parashar Narayan Sharam, and two others had been detained as a precautionary measure.
Watch Full Report on Bharat Bandh:
(With PTI inputs)