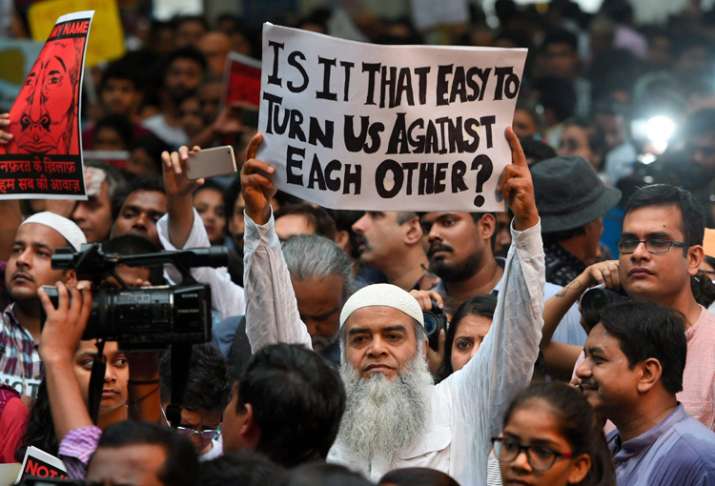 Four persons, including a 50-year-old man, were arrested today in connection with the stabbing of a Muslim youth onboard a Mathura-bound train, an incident which has led to led nation-wide outrage. With the fresh arrests, the total number of accused persons held in the case has risen to five, the police said, even though the man who had stabbed 17-year-old Junaid is still at large.
"We have arrested four more persons, including three youths, who are aged between 24-30 years and one 50-year-old man," Kamaldeep Goel, the Superintendent of Police (SP), Government Railway Police (GRP), Faridabad, told PTI over the phone. 
The sequence of events which led to the killing of the 17-year-old has also become clear to a large extent, he said. 
Ballabgarh lynching: Sequence of events
According to Goel, it was the 50-year-old man arrested today who had entered into an altercation with Junaid and his brothers over seat sharing. 
"Our investigations show that this man entered into an argument with the victim and his brothers from Okhla over seat sharing. He passed some remarks hurting the victims' religious sentiments. However, the quarrel escalated after three youth, who had boarded the train at New Town Faridabad, also entered the fight," the SP said. 
Asked if the person who had stabbed Junaid had been arrested, the Goel replied in the negative but added that the police had "got crucial leads and he too will be in custody soon". 
Junaid was stabbed to death while his brothers - Hashim and Sakir - were injured by a mob which allegedly hurled slurs against them onboard the Delhi-Mathura passenger train between Ballabgarh and Mathura stations last Thursday night. 
Junaid's body was dumped near Asaoti village in Faridabad district. 
The police had announced a reward of Rs 1 lakh for credible information leading to the arrest of the accused persons. 
The one accused who was arrested earlier and remanded to judicial custody by a court in Faridabad district, had earlier, while speaking to reporters alleged that he was in an inebriated state and had attacked the teenager on being instigated by fellow passengers.
Centre, state govt condemn Ballabgarh lynching
The killing was widely condemned. While Opposition has attacked the BJP, which rules both Haryana and the Central government, the ruling party has also been categorical in its condemnation. Union Information and Broadcasting minister M Venkaiah Naidu said today that any incident of such nature is condemnable, brutal and atrocious. 
"Any incident of such nature is condemnable. It is brutal, atrocious. It will not be acceptable at all. People who are responsible for the same should be identified and dealt very firmly," Naidu told reporters here. 
Stressing that what happened in the case of Junaid was "totally wrong", the information and broadcasting minister said nobody can "take law into their hands whatever may be the reason". 
"I hope the concerned local agencies conduct an inquiry and take appropriate action," he said. 
On Monday, Haryana Chief Minister Manohar Lal Khattar had promised to take action against the culprits. In an interview with a daily, Khattar had said, "The government will not allow anyone to take the law in his hands."