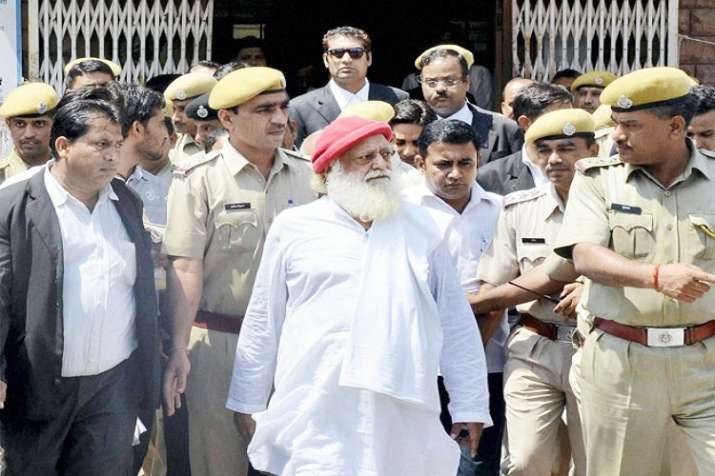 The Jodhpur Scheduled Caste and Scheduled Tribe Court on Wednesday awarded life term to self-styled godman Asaram in 2013 Jodhpur ashram rape case while two other accused Shilpi and Sharad were sentenced to 20 years of imprisonment. The court has also slapped a fine of Rs 1 lakh each on the three convicts.
Earlier in the day, the court had acquitted Asaram's two associates Shiva and Prakash. The verdict was delivered by Special Judge (SC/ST court) Madhusudhan Sharma in the Jodhpur Central jail premises. 
The victim, who was studying at the godman's ashram at Madhya Pradesh's Chhindwara, had alleged that Asaram called her to his ashram in Manai area near Jodhpur and raped her on the night of August 15, 2013. 
Ahead of the verdict, Jodhpur was turned into a fortress and section 144 was imposed in the city. Apprehending a threat to law and order, the Centre had asked Rajasthan, Gujarat and Haryana governments to tighten security and deploy additional forces as the three states have a large number of followers of the 77-year-old Asaram. 
ALSO READ | Who is Asaram Bapu: A timeline of rape, murder and other cases against the 'self-appointed' godman
Asaram convicted, sentenced in rape case: As it happened:
4:05 pm: 'Verdict proves even the weakest can challenge the mighty', says top cop who braved threats to probe case against the godman . | Read story
3:35 pm: The copy of the verdict, accessed by IndiaTV, against Asaram says that he has been found guilty of IPC Section 376 (2-F), IPC Section 376 (D). 
3:24 pm: The verdict will definitely send out a message to all those wicked-minded people. I hope the sentencing will curb crimes as heinous as rape, victim's father says.
3:20 pm:  We are happy with the verdict. Fair investigation and trial was conducted in the case, Rajasthan DGP tells media.
3:10 pm: "We respect the court and the system but we will approach against the verdict in the high court," Nilam Dubey, spokesperson of Asaram's ashram, told IndiaTV.
3:01 pm: Father of the girl, who was raped by Asaram inside his ashram in Jodhpur in August, 2013, has demanded death sentence for Asaram.
3:00 pm: As soon as the judge announced the quantum of punishment against him, Asaram broke down inside the special court set up inside the Jodhpur Central Jail.
02:57 pm: Asaram's counsel told the media that they would appeal against his sentencing in the high court.
02:55 pm: All the three convicts in the rape case of a 16-year-old schoolgirl have also been slapped with a fine of Rs 1 lakh each by the Jodhpur special court.
02:33 pm: Asaram gets life term by Jodhpur SC/ST court, two other accused Shilpi and Sharad sentenced to 20 years of imprisonment. 
Watch: Asaram convicted of raping 16-yr-old schoolgirl, to spend remaining of his life in jail
01:20 pm: Quantum of punishment expected anytime soon.
This judgment is a lesson to people who think they can get away by committing sexual offences against children. I would like to appreciate the girl &her family for fighting against the culprits.: Yashwant Jain, National Commission For Protection of Child Rights (NCPCR) on Asaram pic.twitter.com/RWIT9cEL1A

— ANI (@ANI) April 25, 2018
12:25 pm: Arguments concluded in court, quantum of punishment to be announced post lunch.
12:01 pm: Asaram's spokesperson Neelam Dubey said they will talk to their legal team and decide future course of action. "We will discuss with our legal team and then decide our future course of action. We have confidence in our judiciary," Dubey said.
11:38 am: Hearing on quantum of punishment underway. 
11:33 am: Quantum of sentencing likely to be announced today. Asaram's aide to appeal in a higher court.
11:27 am: Defence lawyers are arguing that Asaram should be given minimum punishment and are citing his age as the main reason.
11:20 am: We have got justice, hope Asaram will get strict punishment, says victim's father.
11:17 am:  Asaram's spokesperson says the ashram will decide on the future course of action.
11:13 am: There were apprehensions of a breakdown of law and order but the Jodhpur police has done a fine job in making sure nothing untoward happened: DGP, Rajasthan.
11:06 am:  IPS officer Ajay Pal Lamba, who supervised probe into case in 2013, calls judgment "historic verdict for criminal jurisprudence".
10:41 am: Three accused including Asaram convicted, two other accused acquitted by Jodhpur Scheduled Caste and Scheduled Tribe Court in a rape case.
The time has come when people should be able to differentiate between the actual saints and the frauds, as this creates a bad image of the country in the international arena: Ashok Gehlot, Congress on #Asaram convicted in rape case pic.twitter.com/rTFZW3WgdT

— ANI (@ANI) April 25, 2018
10:40 am: Jodhpur trial court convicts Asaram, 2 others. Two other accused named Shiva and Prakash acquitted by the court.
10:29 am: Court proceedings underway, judgement expected shortly.
10:18 am: Asaram keeps judge waiting for around 15 minutes.
10:17 am: People were seen offering prayers at the godman's ashram in Madhya Pradesh's Bhopal, Uttar Pradesh's Varanasi, Gujarat's Ahmedabad and Punjab's Ludhiana for his acquittal.
10:17 am: Asaram arrives in court.
10:02 am: Security has been provided to the family of Akhil Gupta, a witness in the rape case against Asaram Bapu in Surat, who was shot dead in January 2015, ahead of the godman's verdict in Jodhpur today, police said. 
09:39 am: The chargesheet against Asaram and four other co-accused Shiva, Shilpi, Sharad and Prakash was filed by the police on November 6, 2013 under various sections of the POSCO Act, Juvenile Justice Act and IPC. 
09:22 am: Judge Madhusudhan Sharma arrives in Jodhpur jail.
09:21 am: Asaram has been lodged in the Jodhpur Central Jail for past four years.
09:04 am: The Asaram rape case verdict is expected to be out at around 10 am.
08:30 am: The judge has arrived at the Jodhpur SC/ST court, hearing is expected to begin shortly.
07:40 am: Final arguments in the Asaram case had been completed by the special court for SC/ST cases on April 7 and the court had kept the order reserved for April 25.
Rajasthan: The Judge has reached Jodhpur Central Jail, verdict on Asaram to be pronounced shortly pic.twitter.com/pnuUPvcQG6

— ANI (@ANI) April 25, 2018
07:30 am: Fearing possible communal violence similar to that in Panchkula following the conviction of controversial godman Gurmeet Ram Rahim Singh in a rape case, the judgement in the case will be pronounced inside the Jodhpur Central Jail.
07:27 am: The Jodhpur court has dismissed a petition seeking entry of media persons in Jodhpur jail for the coverage of the verdict.
07:24 am: Section 144 of the Code of Criminal Procedure (CrPC) will be imposed in Jodhpur till April 30.
07:12 am: In Gujarat, two Surat-based sisters lodged separate complaints against self-styled godman Asaram and his son Narayan Sai, accusing them of rape.
07:08 am: Asaram was arrested in Indore and brought to Jodhpur on September 1, 2013. 
07:06 am: The self-styled godman is under judicial custody since September 2, 2013.
06:55 am: Meanwhile, security has also been heightened in the national capital fearing violence by Asaram supporters. 
WATCH VIDEO: Asaram Bapu convicted in 2013 rape case