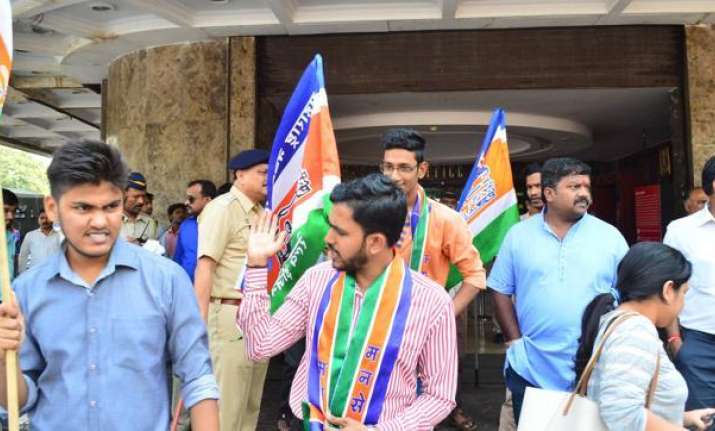 The donation of Rs 5 core as "penance" from the producers of films employing Pakistani artistes has left serving and retired personnel of Indian armed forces upset with many coming out in open to slam the Maharashtra Navnirman Sena (MNS) for politicisation of "apolitical and secular" army. 
The controversy erupted after Karan Johar's 'Ae Dil Hai Mushkil' ran into a storm of protests led by MNS because Pakistani actor Fawad Khan has a role in it. 
The film has been allowed to be released after its producers met with three conditions put forward by MNS chief Raj Thackeray, including payment of Rs 5 crore to Army Welfare Fund. 
"(We) would never support it," Lt Gen Syed Ata Hasnain (Retd), former military secretary, said when asked if he supports the move of the MNS. 
A senior army official said yesterday that "extortion is not allowed" and the army would want people to contribute voluntarily.  
"All contributions (to welfare fund) are to be voluntary. Extortion is not allowed. We would want people to contribute on their own rather than under any coercion," he said. 
He said the army is "upset" over being dragged into this politics.
"The army is completely apolitical. It is wrong to drag the force into politics," another army official said.
Manmohan Bahadur, a retired Air Vice Marshal of the Indian Air Force, said that the Armed Forces "cannot, and should not become crutches for political ambitions."
"I served four decades in uniform- and never did I live on extorted money. What's this happening in my country????" he said in a tweet, tagging the Prime Minister's Office and Defence Minister Manohar Parrikar.  
"Why should the Armed Forces be made a part of this extortion? By accepting this money they would become a 'receiver' of tainted money," he said in another tweet. 
"Army never doubts the love n sentiment of countrymen behind contributions to its welfare fund. From now on...? Raj Thackeray 's extortion," Bahadur further said. 
Kargil war hero Brigadier Khushal Thakur (retd) said national sentiments should not be exploited like this. "If something is wrong, it is wrong. How can a forced donation of Rs 5 crore make it right? But the bottom line is the army's name should not be misused for political gain," he said.
Former northern army commander Lieutenant General BS Jaswal told the Hindustan Times, "The army doesn't go around begging for funds. If a film producer wants to donate, he can do it like any other Indian citizen. But it's unacceptable in such a manner."
Jaswal added the government should have the last word if the matter is too sensitive. "Let's keep the army out of politics. We have stayed that way and would like to stay that way."
Army sources said that they have a system in place to check all contributions and can even reject a contribution made under duress or by any person whom the force does not want to be associated with.
After several organisations and individuals approached the defence ministry with contributions to help the families of battle casualties, the army recently opened an Army Welfare Fund Battle Casualties bank account.
"The contribution to the fund is purely voluntary in nature," the defence ministry said in a release issued on October 17. 
Raj Thackeray claimed victory after producers of 'Ae Dil Hai Mushkil' (ADHM) pledged Rs.5 crore for the Army Welfare's Fund in the meeting held between Raj Thackeray, Maharashtra CM Devendra Fadnavis, Karan Johar and other members of  film fraternity.
After his meeting with Maharashtra Chief Minister Devendra Fadnavis, Film and Television Producers Guild of India president Mukesh Bhatt said that the body will pass a resolution stating that they will not work with Pakistani actors in future.
"I assured the Chief Minister that the Producer's Guild has decided that we will not work with Pakistani artists in the future, it is a resolution and we will pass this resolution," Mukesh Bhatt said.