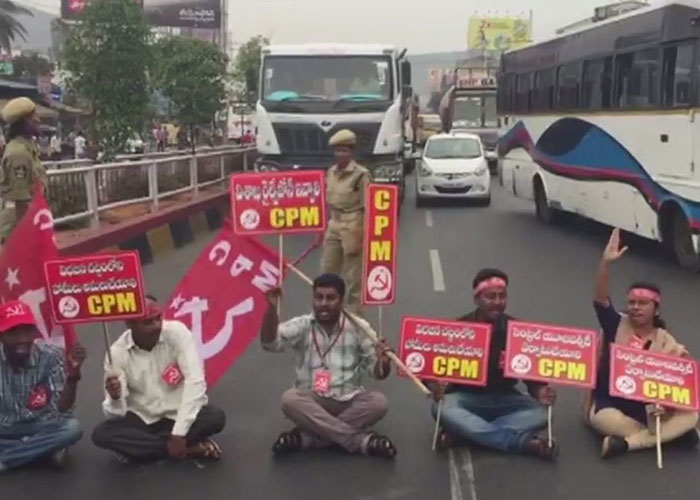 The Left parties called for a statewide shutdown in protest against the "anti-people" Union Budget. As per ANI report, over 1300 APS RTC buses stopped in Andhra Pradesh's Visakhapatnam during bandh on Thursday.
Meanwhile, as a precautionary measure the government has declared holiday for schools. Elaborate security arrangements have been made to  prevent any untoward incident.
HERE ARE THE HIGHLIGHTS:
#Krishna (AP): TDP MLA Bode Prasad gets head tonsured unhappy over the funds allocated to the state of Andhra Pradesh. pic.twitter.com/V7sPIrzA4p

— ANI (@ANI) February 8, 2018
#YSRCP president YS Jagan Mohan Reddy takes part in the statewide bandh called by Left parties against Budget.
#The Communist Party of India, the Communist Party of India-Marxist and several other smaller parties have called for the shutdown. 
#The ruling Telugu Desam Party (TDP) has also called for protests across the state to express solidarity with its MPs, who have been trying to stall the proceedings in both the Houses of Parliament to demand justice to the state.
#YSR Congress and Congress have backed the shutdown call.
#Director General of Police M. Malakondaiah has directed Superintendents of Police in all districts to take all measures to maintain law and order. 
#The officials in districts have been asked to take precautionary measures to protect public property and also keep a tight vigil.
#Earlier, TDP president and Andhra Pradesh Chief Minister N. Chandrababu Naidu asked his party MPs to continue the protest till a categorical announcement from the Centre.
#Actor-politician Pawan Kalyan said the movement to get justice for Andhra Pradesh should be on the lines of the movement for separate Telangana state.