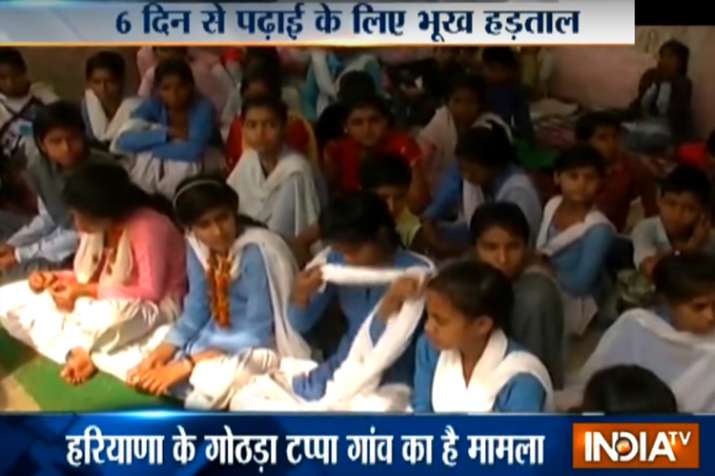 For a week now, around 80-odd girls of a government high school in Rewari district of BJP-ruled Haryana have been on an indefinite stir over demands that the school they study in be upgraded so they do not have to travel to another village every day to attend school for their higher education. Girls in the village complain that they are subjected to daily harassment at the hands of boys while travelling to the neighbouring Kanwali village which has a senior secondary school -- three kilometres from where they stay.
The stir by the girls, studying in class IX and X in Gothda Tappa Dahina village, has entered its seventh day today. Of the 86 girls on protest, 13 are on an indefinite hunger strike. The fear of harassment is such that even discourages the parents of many girls in the village to discontinue their wards' education. Their fear too is not entirely misplaced. 
Last year, in the same district, girl students of two villages had stopped going school with after a girl was allegedly raped on way to school in another village. 
The girls now demand that the government upgrade the school in their village failing which they would continue with their stir. 
"For higher education, girls of our village have to go to Kanwali village, located 3 km from here, after Class X," said village head Suresh Chauhan. 
Chauhan claimed that he had written to the local administration about the problem faced by girls while travelling to the neighbouring village.
One of the girls on hunger strike said: "We fear harassment and molestation by youths of other villages and hence, we are demanding upgradation of our school up to Class XII." 
One of the protesting girls said that boys riding bikes snatch their scarves and throw them on road. The miscreants wear helmets so that cannot be identified. 
The school girls even claimed that the boys even hold their hands and click their pictures.  
The protesting students said they would not stop until the government accepted their demand. 
Meanwhile, the district education authorities said since the school did not fulfil the minimum condition required for the senior secondary level, it could not be upgraded. 
"At least 150 students are required in Classes IX and X for the senior secondary upgrade but the Dahina village school has just 86 students in both classes," said Dharmbir Balrodia, District Education Officer (DEO), Rewari.
Three of the students on hunger strike have taken unwell and have been admitted to a hospital nearby.