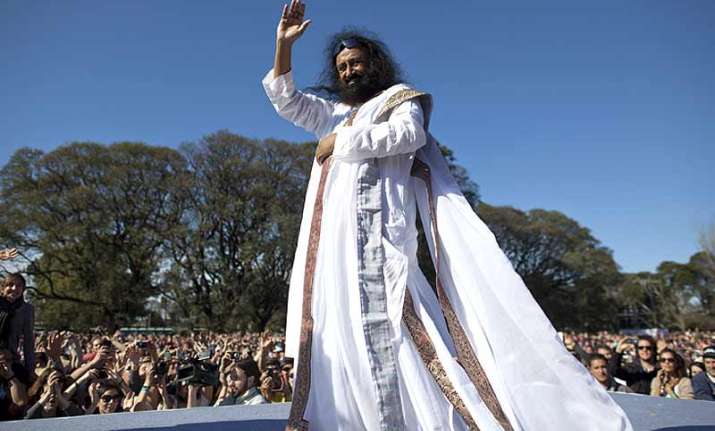 New Delhi: "My vision is a violence free, stress free world" are the words of the internationally acknowledged spiritual leader Sri Sri Ravi Shankar who's foundation 'Art of Living' has emerged as the one of the world's largest humanitarian organisations over the years.
Having a reach as wide as to over 300 million people across 150 nations, Sri Sri is globally recognised and celebrated for what his followers hail as its unequivocal contributions to mankind.  As a multi-faceted social activist, his initiatives towards humanity include conflict resolution, trauma relief and poverty assuagement.
'A man with an impact', Ravi Shankar has an extremely loyal and hardcore following as his preaching and ideologies have influenced millions of lives deeply.
Though he faces criticism from a certain section, but with AOL being present in over 150 countries, his position in the society remains unaffected.
With the commencement of the World Cultural Festival, Sri Sri's mega cultural extravaganza and Prime Minister Narendra Modi marking his presence at the event despite controversies, he has once again given his distracters a sight of his stronghold.
Here, we decode his journey from an ordinary man to 'Sri Sri Ravi Shankar'. We revisit his life to get you glimpses of events that shaped his life and propelled him to the position he is in today:
Early Life:
Born to Smt. Visalakshmi Ratnam and R.S. Venkat Ratnam in Papanasam, Tamil Nadu, India, Sri Sri Ravi Shankar graduated with degrees in Physics and Vedic Literature in 1973. He was inclined towards spirituality since childhood and started reciting verses from the Bhagwad Gita from an early age of four.
Making of a global spiritual leader:
He started off in the 1980s by speaking on Vedic science in Ayurveda centers under the guidance of Maharishi Mahesh Yogi. He travelled around the world preaching spirituality and started gaining popularity through his stints. It is from his experience under Maharishi Yogi that his journey towards being one of the biggest spiritual leaders triggered off.
'Art of Living'
Following his successful gig as an orator, Sri Sri Ravi Shankar established the 'Art of Living' foundation in 1982 and its first course was held in Switzerland, Europe a year later. Within a few years, the AOL gained a massive following within the American masses.
Sri Sri Ravi Shankar came up with the cult breathing exercise 'Sudarshan-Kriya' towards the end of 1980s which is loyally followed by his followers till date. This idea struck him while he was on the banks of the Bhadra River in Shimoga in Karnataka meditating.
The 'Sri Sri' Mystery
The spiritual leader revealed the long-prevailing mystery behind the two 'Sris' in his name through a blog post. His followers were thrilled to finally know the reason behind the same.
It was right after the accusations levelled against him by his fellow leader over the organisation's name. He had written, "That evening, I called our key organisers to discuss changing my name and that of the organisation. This was a grave matter and everybody had something to say. I easily dropped the 'Pandit' from my name. A colleague who had been with me at Maharishi's came up with the idea of Sri Sri. Everybody agreed that one Sri is very common, generic and confusing. My opinion on the matter was irrelevant in this animated discussion. I was just a silent witness. And so, I was rechristened at Waldorf."
Major Works
Labelled as an ambassador of peace, Sri Sri has stuck to his vision of making the world a stress-free place. In the year 1992, he initiated a programme to rehabilitate prisoners to help them ensure themselves a proper livelihood after their release.
After the Tsunami hit the southern India in 2004, his AOL foundation reached out the victims and provided them with aid, food and shelter. His volunteers also served in the Hurricane Katrina relief programme. Post the infamous Damini rape in Delhi in 2012, Sri Sri started up a scheme called 'Volunteer for a Better India'. He has also launched the 'NONVIO' movement which is aimed at eliminating violence.
His book 'Celebrating Silence' has highest regards amongst his followers and has impacted their lives in a huge way. The 'Art of Living' course is also a part of the training program for NASA.
Controversies
Sri Sri Ravi Shankar first came under the scanner when a fellow leader Satyanarayan Goenkaji accused him of taking up the name of his foundation from Maharishi Mahesh Yogi's book "The Science of Being and the Art of Living".
Then, in the year 2001, Karnataka High Court registered a PIL against his foundation alleging that it had constructed huge structures upon a water-spread area. Later, it was estimated that it had encroached upon 6.53 hectares of the tank area. 
In a similar incident in 2010, a NRI accused the Sri Sri of illegally grabbing 15 acres of his land in Bengaluru. However, the status of both the cases was never disclosed in public.
Sri Sri Ravi Shankar's comments on schools in 2012 landed him in a big soup. He had said, "Government schools are breeding grounds for Naxalism." He faced strong criticism for his words as the educationists and administrators termed his statement as "unfortunate and illogical." 
He came under fire again when he suggested a mutual agreement for building the Ram Mandir to solve the infamous Ayodhya issue.
He has always remained active in the country's political scenario. Whether it was due to his efforts to convince Baba Ramdev to discontinue his fast during the 2011 anti-national movement or his attempt to mediate between women activists and traditionalists on the entry of women inside Shani Shignapur temple, he somehow retained himself in the headlines.