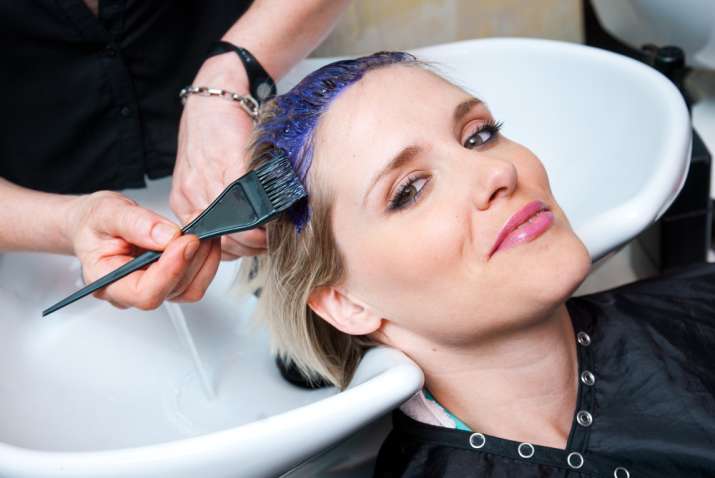 Grey hair have always been cited as a symbol of ageing. But thanks to the stressful life-style and unhealthy eating habit, many of us tend to develop grey hair at a young age of 20s or 30s.
Indeed, these grey hairs can be huge hit to one's self-confidence in today's world where it is all about looking good and young.
While it is important to change your lifestyle in order to prevent the grey hair, you can still hide your greys instantly with the below mentioned smart tips.
*Hair chalk: One of the easiest way to cover your greys is apply hair chalk. These are will not give your hide out grey in a flick but you will also get stylish and colorful hair. Besides, it is easily available in the market.

 
*Colourful threads: Go for a funky look to secrete your greys with colorful threads. Braid a section of your hair with colourful threads and include the discoloured area in it
*Sleek side parted ponytail: Hide white hair of your middle part by making sleek side parted pony tail. It is very easy to do, if you are in hurry you can go for this stylish hairdo.
* Light accessories: There are so many accessories that can be used to hide the grey hairs. Like artificial flowers, transparent stone beads in various colours, transparent head bands and bandanas.
*Curls: You can also go for curls to hide you grey hairs. All you have to do is use curling rollers or an iron to curl your hair or a particular section of it and hide grey areas. Curls are best styling trick, because you can move and mould them easily, and will be spread in different sections of your hair.
* Side swept heavy bangs: This hairstyle will take care of those hairs which have turned white bang on top of your head and all kinds of parting will expose them out. A heavy bang brought from behind and swept cleverly to one side will do the trick.
*Bun it all up: If you have grey hair in and around the crown area, you can gather all your hair into an elegant bun and glam this bun up with bling accessories. There shouldn't be any parting in the front otherwise there are chances that white hair would be visible from there. For a casual day out, instead of a sleek neat bun go for messy buns, they will give your overall personality an edge and compliment your casual attire.
(With IANS Inputs)