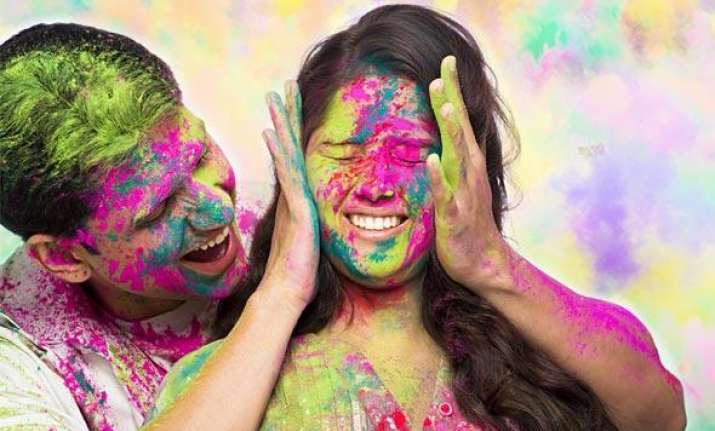 New Delhi: Holi, the carnival of colours, not only signifies the beginning of springs but also brings unrestrained joy and happiness in everyone's life. In the meanwhile, using chemical and metallic colours can be extremely harmful, especially for hair and skin. 
The colours used in Holi can lead to severe health conditions like irritation, skin rashes, eye injuries, burning sensation and much more.  However, taking a little precaution can save you from any such occurrences. Lets have a look at some of them. 
1. First of all, make sure that the clothes you choose to wear when playing colours cover the maximum part of your body so that lesser skin is directly exposed to the harsh colours. Wearing dark-coloured full-sleeved clothes will be the best idea. 
2. Don't forget to apply a thick coating of vaseline, olive oil or castor oil right from your hair to toe. Doing so will not only prevent the harsh colours from settling deep into the skin but will also make it easier to wash them off afterwards. 
3. How about wearing cap or turban! Not only will it look trendy but also protect your hair from getting damaged. 
4. A day or two before the festival, trim your nails and apply a thick coat of dark-coloured paint on them and the adjacent skin. This will prevent the colours from settling in. 
5. It is better to avoid playing Holi with chemical colours. Nowadays, hearbal colours like henna, tea leaves and turmeric are easily available in the market. Using natural colour is probably the best way to enjoy a safe Holi.
6. Drink plenty of water before you start playing Holi as it will keep your skin hydrated. Dehydration will cause skin dryness due to which colour might settle deep into the skin. 
7. In case of even a slight itch, wash off the colours with cold water to avoid any rashes. 
8. When done with playing colours, immediately take a bath with lukewarm water and apply mild shampoo and liquid body cleanser. 
9. If the colours are still left on the skin, prepare a thick mixture of besan and curd and apply it to your skin. Wait for 2-3 minutes, and then take a bath. 
10. After bath, moisturise your skin calamine, Aloe-Vera oil or a good body lotion. Apply the moisturiser when you feel your skin dry.