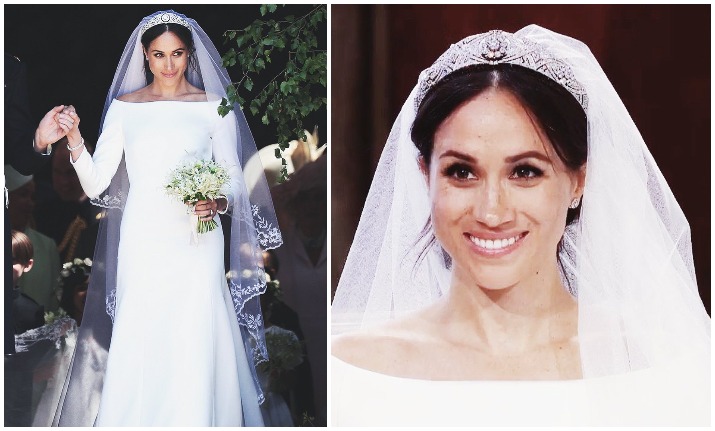 American actress Meghan Markle who is now the Duchess of Sussex, wore a modest white bridal gown and shone like a diamond at her wedding. The ceremony took place at St George's Chapel of Windsor Castle in London. The 36-year-old actress kept it simple for her wedding trousseau. Her wedding dress was kept a secret until the bride left for the castle for her nuptials. Her wedding outfit was designed by Givenchy's Waight Keller .
The ivory silk dress was both elegant and feminine, with a shoulder-framing bateau neckline. The train was kept short less than 16.5-foot. It was hand-embroidered with flowers representing the 53 countries of the Commonwealth.
Though, the designer Waight Keller is not a forerunner, but she was chosen to design the wedding outfit for Meghan Markle, who is a feminist. The 47-year-old designer is one of few women at the coveted Parisian fashion house. Previously, she was the creative director of Chloe, where she aced free-spirited, feminine attributes, with soft colours, elegance and ease.
Ms. Markle expressed the wish of having all 53 countries of the Commonwealth with her on her journey through the ceremony. Ms. Waight Keller designed a veil representing the distinctive flora of each Commonwealth country united in one spectacular floral composition.

— Kensington Palace (@KensingtonRoyal) May 19, 2018
Ms. Meghan Markle's wedding dress has been designed by the
acclaimed British designer, Clare Waight Keller. Ms. Waight Keller last year
became the first female Artistic Director at the historic French fashion house Givenchy.

— Kensington Palace (@KensingtonRoyal) May 19, 2018
Coming to her tiara which she wore over the veil, it was Queen Mary's diamond brandeau tiara, borrowed from Queen Elizabeth II. The platinum band is studded with diamonds enclosing a detachable brooch. It was made in 1932.
The veil is held in place by Queen Mary's diamond bandeau tiara, lent to Ms. Markle by The Queen. The diamond bandeau is English and was made in 1932, with the entre brooch dating from 1893.

— Kensington Palace (@KensingtonRoyal) May 19, 2018
Breathtaking. #RoyalWedding pic.twitter.com/DWXP47ZS7B

— iconic (@faveslooks) May 19, 2018
With the subtle approach in her wedding trousseau, the Duchess of Sussex has sent a powerful message to the people. Meghan Markle could've opted for a more elaborate wedding outfit, which we would be discussing about for ages. Instead, she chose subtlety.