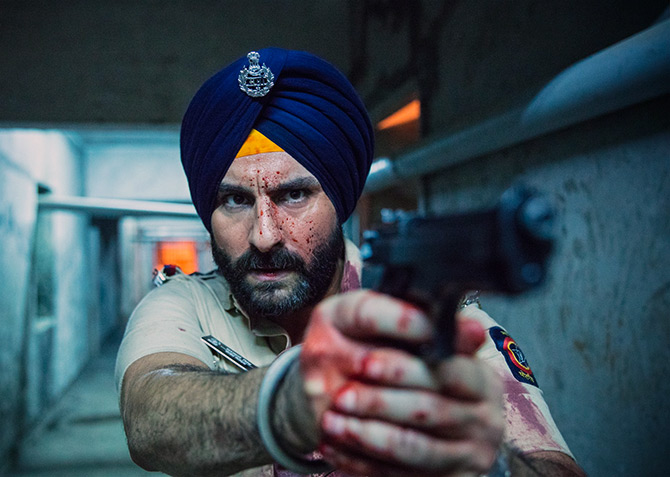 Though Netflix has produced numerous original Indian films, Sacred Games inception marks the first Indian Netflix original series. The series has already received rave reviews from the top media and is widely appreciated by the audience.
After two and a half years of Netflix entry in the crowded Indian OTT (Over the Top) market, the streaming giant has tuned in to Bollywood flavor by starring Saif Ali Khan, Nawazuddin Siddique and Radhika Apte. Produced by the Anil Ambani-led Reliance Entertainment Phantom Films joint venture, Sacred Game is based on Vikram Chandra's eponymous novel of 2006 and premiered worldwide on Netflix on July 6.
Sacred Games is led by a turban-clad Saif Ali Khan who is playing Sartaj Singh, a Mumbai-based seasoned, cynical police officer. Netflix is the acknowledged global leader in providing high quality original content across multiple genres on its streaming platform, and already has a series of mega hits to its credit, including Narcos, Stranger Things, The Crown and 13 Reasons Why.
"We are privileged to partner with Netflix in launching their first-ever original Indian mini-series. (Netflix) has demolished physical boundaries across the globe, and we are delighted to showcase Indian creative talent to their ever-increasing worldwide viewership base through the creative genius of our partners, Vikramaditya Motwane and Anurag Kashyap of Phantom Films," Reliance Entertainment Vice Chairman Amitabh Jhunjunwala said in a statement.
Alongside Saif Ali Khan is Pad Man star, Radhika Apte in the role of Anjali Mathur, a RAW intelligence officer. Sacred Game is being marketed and promoted by Netflix not just in India but across the globe, in all major markets in Asia, US, Latin America and Europe.
In the Indian OTT market, almost every player is betting big on originals. The mini-series, available in local languages, tells the tale of Sartaj Singh, who is summoned one morning by an anonymous tip which promises him an opportunity to capture the powerful Ganesh Gaitonde, criminal overlord of the G-Company.
The lunchbox star Nawazuddin Siddique will play Gaitonde, the puppet master of the games. "We are delighted with our partnership with Reliance Entertainment's Phantom Films, to bring Vikram Chandra's epic novel to life in our first Indian original series, Sacred Games," said Erik Barmack, Vice President of International Original Series at Netflix. x. "We know that the more incredibly authentically local our shows are, the more people around the world discover and love it. We are thrilled to work with some of the world's best talent, writers, producers and directors to bring great stories to life for India and the world."
Ekta Kapoor-owned ALTBalaji has emphasized on originals as well. The cast of the show Sacred Games, which shows the intricate web of organized crime, corruption, politics and espionage in post-liberalization India, leaves a mark.
Netflix's international rival Amazon Prime has already launched two Indian original series Inside Edge and Breathe Along with one non-scripted show Remix. Motwane had, in an earlier interview, said the series was like a guinea pig in the Indian market, and so there was pressure on them as well as on Netflix to deliver a great show so that more and more people watch content on the platform.