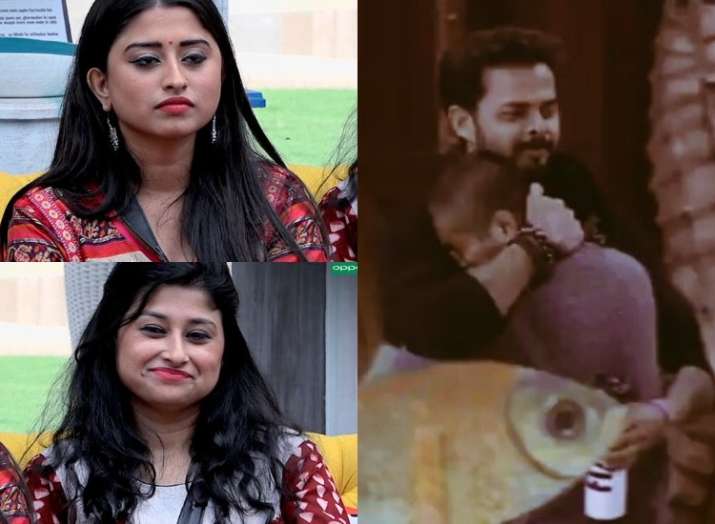 Bigg Boss 12 October 15 Highlights: After a grand Navratri celebration with talented Dance Deewane artists, Bigg Boss house is back on track but a surprise still awaits for them. Housemates Sreesanth and Anup Jalota, who were in the secret room, enter the main house today. With Sreesanth's re-entry, many secrets are all revealed. While the housemates are happy to see both the contestants back in the game, Bigg Boss has another surprise for them. In today's episode, the Bigg Breakup happens and the jodis get dissolved. Now, each member will play to defend themselves in the game. The situation does not get any better as today's nomination task corners both the jodis and the singles and puts them in a tough spot. What happens to the house after this 'Bigg Breakup?' We can only wait to find out!
Catch all the LIVE updates of the Bigg Boss 12 house here:
10:00 pm- Bhajan singer Anup Jalota questions Jasleen and Sourabh's relationship. He also makes sure that everyone knows that Dipika is the smartest player in the game and uses everyone to her benefit.
.@anupjalota ko lagta hai ki #JasleenMatharu aa jaati hai sabki baaton mein aur @KVBohra hai @ms_dipika se kuch zyada hi wafadaar! #BB12 #BiggBoss12

— COLORS (@ColorsTV) October 15, 2018
09:50 pm- Sreesanth starts telling the housemates the truth about Dipika. He is evidently upset about her actions towards himself as well as Srishty.
.@sreesanth36 ne shuru kiya @ms_dipika par shabdon ka vaar. #BiggBoss12.

— COLORS (@ColorsTV) October 15, 2018
09:40 pm- To lighten up the environment that was dampened by Nehha Pendse's eviction and the nominations task, Sreesanth and Anup Jalota finally return to the house from the Secret Room. The re-entry of Sreesanth and Anup may have been a happy occasion at first, but that is not going to last for long.
Ab waqt aa gaya hai @anupjalota aur @sreesanth36 ka ghar mein wapas jaane ka! Stay tuned for all the excitement. #BB12 #BiggBoss12

— COLORS (@ColorsTV) October 15, 2018
09:30 pm- On the other hand, singles have to decide who should be nominated for this week. They decide to nominate Karanvir, Shrishti and Jasleen.
Woah! @KVBohra, @SrSrishty and #JasleenMatharu are also nominated for this week's elimination. #BB12 #BiggBoss12

— COLORS (@ColorsTV) October 15, 2018
09:25 pm- Sabha and Somi decide to nominate Sabha for the elimination. Shivashish and Sourabh pick Shivashish to be nominated. Being the Fizz Captains, Romil and Surbhi are safe from this week's elimination. However, they have the power to change the names of the nominated contestants. The duo decide to nominate Sourabh instead of Shivashish and Surbhi becomes the only captain of the house.
#SabaKhan, #SourabhPatel and #UrvashiVani are nominated for this week's elimination and there's going to be just one captain of the #BB12 house! #BiggBoss12 @AstralAdhesives

— COLORS (@ColorsTV) October 15, 2018
09:15 pm- Bigg Boss announces the Bigg Breakup. Now the jodis will be dissolved and every contestant will play for themselves as individuals. The jodis will take their last decision together. Deepak and Urvashi are invited into the activity room and asked to decide and nominate any one of them for this week's elimination.
#BB12 ke ghar mein aaya ek naya twist, ab kya hoga aage? #BiggBoss12 pic.twitter.com/NPaC5Sd9fj

— COLORS (@ColorsTV) October 15, 2018
#DeepakThakur ne kaha #UrvashiVani ko ki woh ek kamjor sadasya hai, jiss par mila unhe ek karara jawaab. #BB12 #BiggBoss12

— COLORS (@ColorsTV) October 15, 2018
09:10 pm-  Dipika is still upset about what Surbhi said in the Sultani Akhada in yesterday's episode. While Dipika tries to justify her stand, the housemates are not ready to believe her and feel that she is fake. On the other hand, housemates believe that there is a love story cooking between Deepak and Urvashi.
.@ms_dipika justifies her statement 'ye kitchen mera hai' to the housemates! Catch what's happening now. #BB12 #BiggBoss12

— COLORS (@ColorsTV) October 15, 2018
For all the buzz related to Bigg Boss 12, Click here
More Bollywood stories and picture galleries
For all latest news and updates, stay tuned to our Facebook page