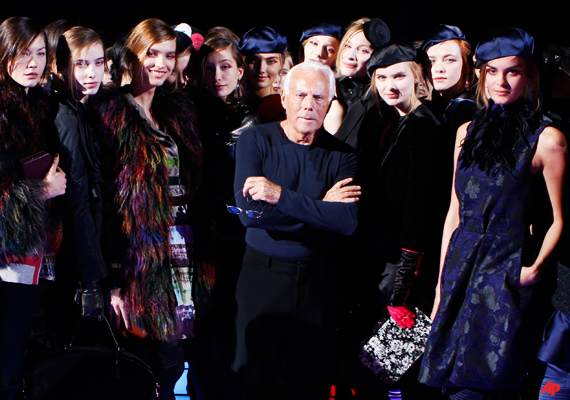 Milan, Feb 25: Armani presents a sleek trouser that cuffs at the knee with a flourish, creating a fresh silhouette in his second line Emporio womenswear collection for next winter presented during Milan Fashion Week on Saturday.

"I would like you to write that Armani has invented new pants," Armani told reporters backstage before the show.

The pants—which Armani did not name—formed the centerpiece of the collection, worn beneath 1920s-style flapper dresses in light, flowing fabric or with belted tops that finished in tiers or flared over the pants for a carefree, unstructured line.

While the pants bear echoes of what Americans might call knickers, and the British call plus-fours, there was nothing of the baggy golfing pants in Armani's creations. Made of silk or velvet, the Emporio pants are sleek and fitted, finishing at the knee with a flair or tiered cuff.

Paired with jackets, skirts, dresses or fanciful tops, the overall look was a potpourri of layers that allows the imagination to run wild and included other festive touches like long fringe on coats, polka dotted and striped fabric for jackets, and colorful long fur vests.

The designer paired the pants with flat slippers with floral fabric toes or shiny lace-up shoes, and always with opaque tights.

Armani said he considered high heels, but rejected the impact as too warrior-like—an effect that many of his Milan colleagues have engaged.

"Even if we fought for high heels, with these pants, the Emporio woman seemed to be a valkyrie, or a call girl," he said.

In keeping with the easy but considered look, models hair was pulled back effortlessly and the outfits finished with a hat, maybe a take on a flapper cloche or a wide-brimmed hat, and piles of jet black necklaces.

Emporio colors were mostly black and white, with touches of bold red and amethyst blue.

Armani made effective use of taffeta and tulle, both stables of the season on Milan runways. Large taffeta roses decorate the front of blouses, and tulle skirts topped the knee-length bloomers.