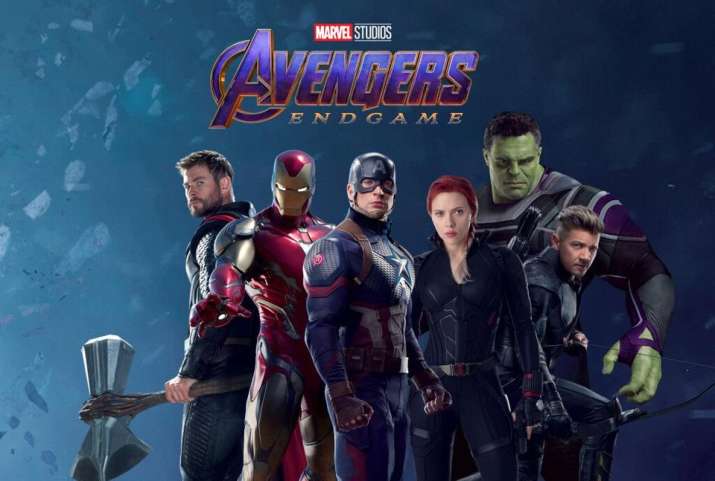 Every day a new fan theory and revelation adds up to the forthcoming Avengers: Endgame. Ever since the trailer was launched, fans have been devising new theories everyday to surmise what's going to happen to their favourite superheroes during the ultimate face-off with mad titan Thanos. Amid this, another picture revealing the looks of the Avengers have been leaked on the social media. Orville Redenbacher has shared the official picture of the original six, but the Marvel fans aren't buying it.
Official new #AvengersEndgame promo art features the original six heroes together again!

(via @OrvillePopcorn) pic.twitter.com/azJ0wYMvPS

— MCU - The Direct (@MCU_Direct) February 8, 2019
While Iron Man and Captain America look exactly like we've imagined. Steve Rogers is seen in an improvised spandex bodysuit with his headgear on. Iron Man is same except for the damaged head gear. Hawkeye has turned into Ronin as we've seen in the trailer. Thor is the same with his Mjolnir replaced with the Stormbreaker which he made in Avengers: Infinity War.
However, Black Widow and Hulk's look doesn't look convincing. Natasha Romanov is seen with ombre hair with blonde tips. In the Endgame trailer she was seen in platinum blonde. Fans are wondering if she booked a salon session for herself during the post-apocalyptic phase?
Hulk is seen in a spandex suit which was never seen before. His face looks more like Doctor Banner than hulk. And also, he got a haircut. All these details have left the fans wondering and some are even suspicious if the leaked pictures are even real.
This looks like a fake to me. Look at Hulk's skin, it hasn't got the right texture. Even though the facial features can resemble those of Dr. Bruce, but surely the skin wouldn't change. And Black Widow's hair! I don't think Marvel would miss out on such details.#AvengersEndgame pic.twitter.com/BG8EnnaBkV

— Shrey Dabhi (@sdabhi23) February 9, 2019
Humane #Hulk ?! He looks more "bannerish" here 🤫 #AvengersEndGame @Avengers pic.twitter.com/PKXRAU4X2c

— Sridhar (@Batwaynne) February 8, 2019
Professor Hulk FOR SURE!#AvengersEndgame pic.twitter.com/oj2Nu7WqDK

— 🅼🅘🅺🅔 🐻 (@HUNGRYxB3AR) February 8, 2019
YAY! Official #AvengersEndGame blanket offers a look at the heroes together! THERE SHE IS! #CaptainMarvel⁠ ⁠ pic.twitter.com/aYQVUTHrDO

— 💫 Captain Marvel NEWS (@CaptMarvelNews) February 6, 2019
So ... I'm not imagining this right? The Hulk looks drastically different between Ragnarok and End Game. Is this what happens when Bruce and the Hulk find "peace" with eachother?? #Avengers #AvengersEndgame pic.twitter.com/0P9VdBGw2r

— Jacob's Quest (@JacobsQuest) February 8, 2019
An interesting new look at the team from #AvengersEndgame, I know it's official but it feels a little fan made.

Which costume upgrade are you digging the most? pic.twitter.com/8RQZqVG8uB

— GYCO! (@getyourcomicon) February 8, 2019
Freshmen year vs. Senior year-MCU edition#AvengersEndgame pic.twitter.com/dta3z1Hwro

— Marvel Marco🇮🇹 #BlackLivesMatter (@marco_brilli) February 8, 2019
The official synopsis of Avengers: Endgame, which was recently shared online, reads, "After the devastating events of Avengers: Infinity War (2018), the universe is in ruins due to the efforts of the Mad Titan, Thanos. With the help of remaining allies, the Avengers must assemble once more in order to undo Thanos' actions and restore order to the universe once and for all, no matter what consequences may be in store."
Avengers: Endgame will release in theatres on April 26. According to director Joe Russo, the film is going to be three-hours long.