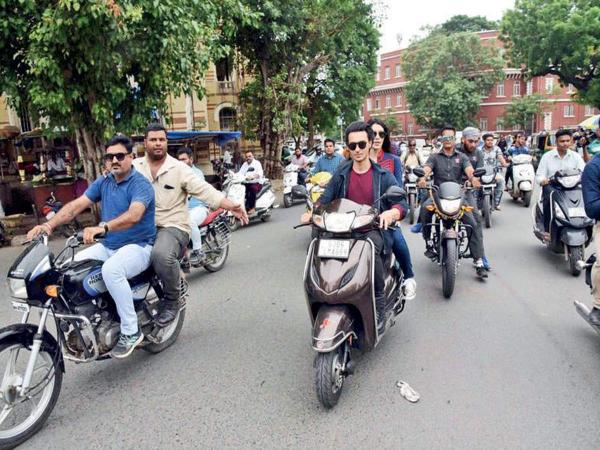 The promotions for Salman Khan Loveratri didn't start off in a good note. The lead pair of the film Aayush Sharma and Warina Hussain were fined for riding a bike without helmets in Vadodara where they were promoting their upcoming film.Fans flocked around to see the actors and this created the ruckus. According to a report in The Times Of India, they were fined Rs 100 each as a penalty.
The TOI report states that the Vadodra Police arrived at their hotel late in the night to issue the memos to them. "We sent cops to issue memo to both the actors at their hotel. They are celebrities and hence they should understand their responsibilities and follow traffic laws," TOI quoted assistant commissioner of police (traffic) Amita Vanani as saying.
Earlier in an interview, Aayush revealed how Salman guided him. He said, ''He used to guide me properly, and told me that 'It's not about the number of auditions you are giving, but about when you give an audition, how good you are'. I trained with Salman bhai for four years, and he was very particular in saying, 'Listen, I can give you a debut, but after that when you go in front of the camera, it's your job to act and perform... I can't do that for you'.''
Loveratri is set against the backdrop of Gujarat. The romantic drama unfolds the love story of the leading couple over the span of Navratri.
The movie will present the fresh pairing of debutants Aayush Sharma and Warina Hussain. The poster and pictures from the film have already piqued the interest of the audience.
Loveratri, directed by Abhiraj Minawala is set to release on October 5.