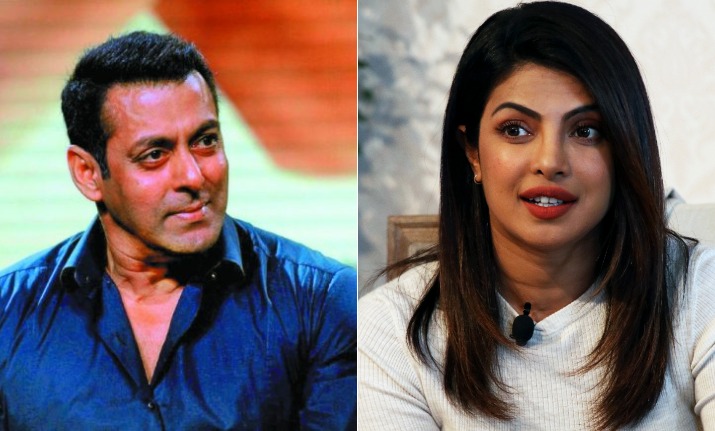 Last year, Priyanka Chopra gave a shock to her fans as well as the entire Bharat team when she walked out of the project due to her wedding with Nick Jonas. The actress informed Salman Khan and Ali Abbas Zafar about her decision just five days before the shooting was about to begin. This did irk the lead actor Salman Khan, upon whose recommendation, Priyanka bagged the role. Later, Katrina Kaif stepped in to fill the vacant place that PeeCee left. It has been months, but it seems like Salman Khan is still hurt by Priyanka's sudden decision. During a recent even, when Katrina Kaif was asked how did she bag the role of Kumud Raina in Bharat, Salman Khan said that the credit goes to Priyanka Chopra. 
Salman Khan told Mumbai Mirror, "Thank you, Priyanka! I will always be thankful to her. Bharat was about to go on the floors and just five days before the shooting, Priyanka meets me and says that she wouldn't be able to work in the film. Now, if Priyanka hadn't left Bharat, how could we have brought Katrina on board?"
Salman Khan went on saying that Priyanka Chopra was offered a meaty in Bharat, but instead, she chose to play the role of a wife. He added, "But Katrina is not playing the role of a wife and hence she is playing the character in Bharat." 
When asked if he ever talked to Priyanka Chopra after her exit, he said, "No, even after the release of the trailer, Priyanka didn't call me. Now, if she had some genuine problem then it's alright. I believe, whatever happens, happens for the good."
"She came to meet me one day and said she is going to get married and hence won't be able to work in the film. I had told Priyanka that we will adjust the dates for her. She said that she isn't sure how much time she needs for the preparation of her wedding," he added. 
Salman Khan revealed that Priyanka Chopra was in no mood to make changes in her schedule for Bharat. He said, "While many would give anything for the film or maybe even leaving their husband, Priyanka left the film." 
Fans are curious to know if Salman Khan would work with Priyanka Chopra again after the Bharat debacle. When asked about the same, Dabangg Khan said, "I would definitely work with her in the future. If she gets me a meaty role, why wouldn't I work with her? I just need to love the story."