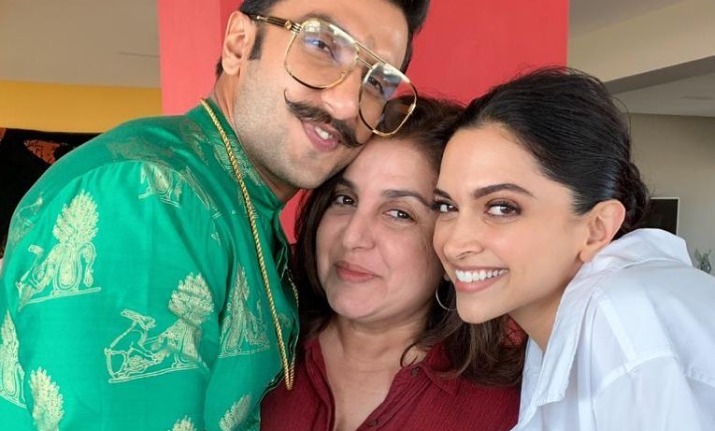 Remember, a couple of days ago Deepika Padukone and Ranveer Singh paid a visit to close friends Farah Khan's residence? The ace choreographer even shared pictures with the couple on her social media, expressing how overwhelmed to see her 'babies' getting hitched. It seems like it wasn't only a casual visit by the newlyweds. Just before their wedding, Deepika and Ranveer went to Farah to give her their wedding invite, but the choreographer had something else planned for them.
The filmmaker, who is very close to Deepika Padukone, wanted to give something really imaginative and special to the couple. So, she invited ace cast artist Bhavna Jasra at her home. She wanted to get Deepika Padukone and Ranveer Singh's hand imprinted, which she would gift the couple on their wedding. Sharing the news with an entertainment portal, Bhavna Jasra said, "Farah Khan the ace choreographer & director who is a dear friend from the time she made the baby hand & feet impressions of her triplets, called me early in the morning to check if I was in town."
"My heart skipped a beat when she mentioned that she wanted me to make the most special gift for Deepika & Ranveer for their wedding & wanted me to take their couple hand impressions since they were coming to her home that day!"
"She was so excited that she literally hid me in another room & said that I should come out only when she called my name ! I set everything up in the next room & waited excitedly. I heard them arrive & greet Farah with great affection."
"Farah then told them that she has organised a surprise gift for their wedding & called out my name to do the honors ! They greeted me with happy smiles & on knowing what the surprise was, they both gleamed with joy."
Farah Khan is among the three Bollywood celebrities who were invited to Deepika-Ranveer's wedding at Lake Como, Italy. The other two were Shah Rukh Khan and Sanjay Leela Bhansali. Interestingly, Deepika Padukone debuted in Bollywood with Shah Rukh Khan in a Farah Khan film Om Shanti Om. The actress met her now husband Ranveer Singh through Sanjay Leela Bhansali on the sets of Goliyon Ki Rasleela: Ramleela. Hence, it makes all of these three people super special in her life.