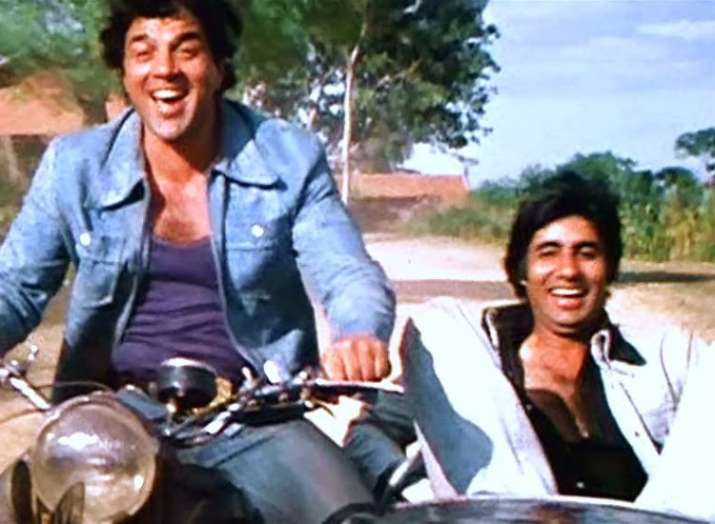 Bollywood megastar Amitabh Bachchan had a walk down the memory lane to mark 43 years of his cult classic Sholay. Through pictorial representations, the 75-year-old took his fans and followers back in the time when the film was being shot and promoted. Moreover, in his blog, the legendary actor shared his thoughts while shooting the Ramesh Sippy-film.
The 'Thugs of Hindostan' star, who has always been vocal about his bond with his late parents Harivanshrai Bachchan and Teji Bachchan, also shared a picture with them that was clicked at the film's premiere.
T 2900 - 43 years of SHOLAY .. ! nothing more needs to be said .. released on Aug 15th .. pic.twitter.com/23nXsMKgX5

— Amitabh Bachchan (@SrBachchan) August 14, 2018
The 'Brahmastra' star further wrote that in future, he might share some "details that have yet to be told. He wrote,"The 1st 70mm stereophonic sound film in India .. large and expansive and so the reference and pictures, must be large in numbers too .. books writings articles and so much has already been done that it would be futile to address the film its making and its stories .. yet there are some details that have yet to be told .. and ... they shall ... perhaps have to wait .."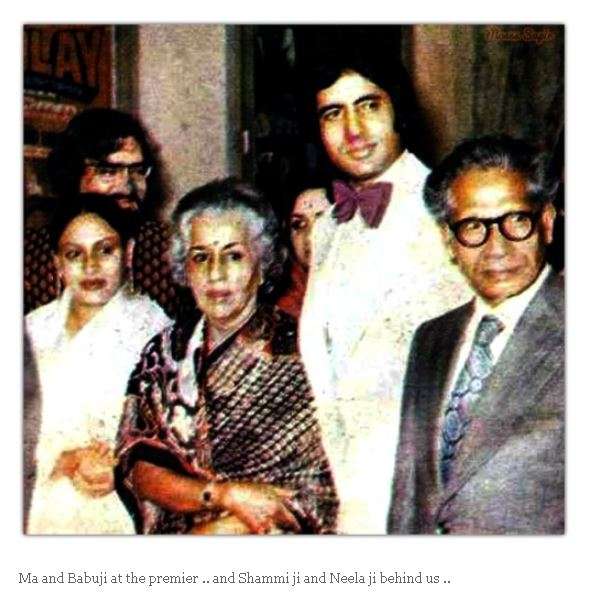 Even fans shared pictures and videos from the iconic film Sholay and Big B retweeted all of them.
#43YearsOfSholay @SrBachchan Congratulations film Sholay with 43yers..💐💐💐💐💐💐💐💐💐🌹🌹🌹🌹🌹🌹🌹🌹🌹🌹🌹🌹Amit ji, dear, you are the best actor in all world,I love you very much❤️❤️❤️❤️❤️❤️❤️❤️❤️❤️❤️❤️❤️❤️❤️❤️❤️ pic.twitter.com/b5O4ItlinD

— Zalina Tidjieva ❤ABEF -31❤💗💖💞💝💌💕💋 (@Zalina88314980) August 14, 2018
#43YearsOfSholay #Sholay Is The Only Film To Celebrate 532 Days Direct Run In Andhra Pradesh/ Telangana 👍👍
Hyderabad - Ramakrishna 70mm - 532 days with 3 shows (93 Days House Full)👌👌
(Still Unbeatable Record) 👏👏@SrBachchan 💪💪 pic.twitter.com/kJk7cy0m7u

— GNR (@rao_goka) August 14, 2018
#43YearsOfSholay
Amjad Khan gave one of the best villain acts of all time in Indian Cinema. His performance was mind-blowing but those dialogues of his were a masterpiece as well.

''Gabbar ke taap se tumhe ek hi aadmi bacha sakta hai, ek hi aadmi ... khud Gabbar '' pic.twitter.com/Zz45adKmbA

— Nikhil (Ajay Devgn Fan) (@Nikhil728) August 14, 2018
#43YearsOfSholay

Success Party pic.twitter.com/epWz1vAEXE

— Rahul Sen EF (@rahul1021986) August 14, 2018
#43YearsOfSholay
Danny Denzongpa was the original choice to play Gabbar and he's a great actor who knows how portray villain roles very well. However, it's hard to imagine him playing the role Gabbar because Amjad Khan was terrific that no other actor could have done it better. pic.twitter.com/HGBr8ouGXS

— Nikhil (Ajay Devgn Fan) (@Nikhil728) August 14, 2018
@SrBachchan 43 Years of 'Sholay' - What a film ! even after 43 years Hollywood could not create that emotion #43YearsOfSholay pic.twitter.com/6ONQQY4dlx

— Moses Sapir (@MosesSapir) August 14, 2018
The 1975 blockbuster also stars Dharmendra, Jaya Bachchan, Hema Malini, Sanjeev Kumar and Amjad Khan. The movie is, till date, considered as the ultimate cult classic of Bollywood.
On the work front, Amitabh Bachchan is currently shooting for Ayan Mukerji's Brahmastra which also stars Alia Bhatt and Ranbir Kapoor.
(With ANI inputs)