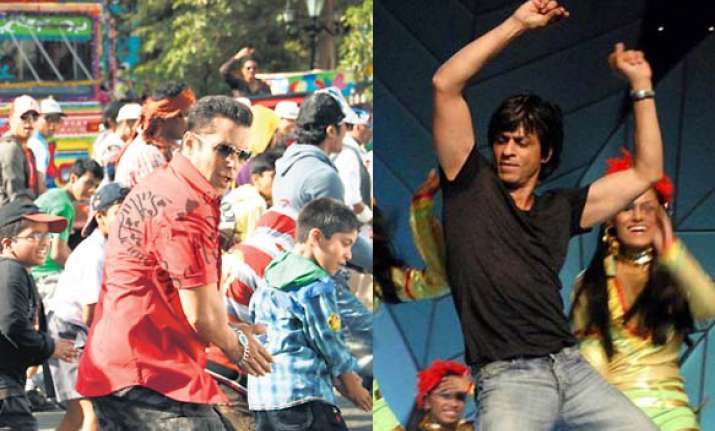 Bollywood superstar Shah Rukh Khan did a Dhinka Chika at the Reddy wedding in Hyderabad on Friday,and also made a grand entrance to the music of Main Hoon Don, says a media report.

Those looking forward to seeing Shah Rukh Khan dance to chartbusters from his films at GVK Reddy's granddaughter Mallika's wedding to Siddharth Reddy in Hyderabad on Friday were in for a big surprise, says the report.

He entered to the tune of Main Hoon Don, but then he noticed that Amitabh Bachchan was also there. So, he apologised to Bachchan jokingly, saying he shouldn't have entered like that since the original Don (Bachchan) was already there.

And then, he announced an original item made by the Reddys, for the Reddys, from Ready and grooved to Salman Khan's hit track Dhinka Chika. Salman Khan, of course,wasnt there. SRK even put his shades on his back collar like Salman does in the song.

The source said, when he performed, everyone was thrilled.

He performed to a medley of his songs, but it was his Dhinka Chika stint that had everyone talking. He wasn't uncomfortable ,he is a true performer, the eyewitness said.

In fact, Mallika's mother Pinky had even asked SRK for a discount for performing at the wedding, but he politely refused.

Besides this, SRK also performed to Kuch Kuch Hota Hai with Rani Mukerji. SRK's act ended in Om Shanti Om style with him dancing with all his leading ladies Rani, Anushka, Priyanka and, even Ranveer.

Anushka Sharma and Ranveer Singh flew to Hyderabad together to dance at this sangeet ceremony. But spotting shutterbugs at the airport, they took an alternate exit.
But the shutterbugs got them, and the duo tried not to be clicked together.But at the sangeet, the master of ceremonies Vivek Oberoi announced that Anushka and Ranveer are the hottest, dynamic & most happening couple in Bollywood right now.