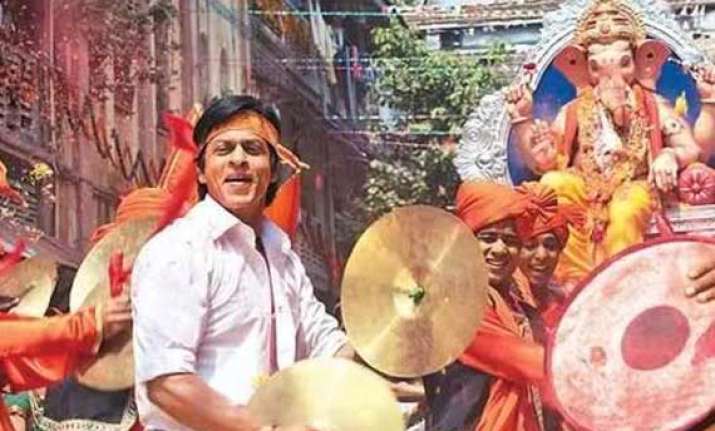 New Delhi: Ganesh Chaturthi celebration is about to begin with mouth-watering 'modaks' and other delicious sweets being readied to offer to lord Ganesha. While it is mostly celebrated in Mumbai, Maharashtra, Bollywood has its own way to celebrate the festival. Mostly shot in Mumbai, there are number of songs through which Bollywood has praised the lord in its colorful style.
The inclusion of songs praising Lord Ganesha has always worked for the flick. It may be termed as the formula to turn the flick into superhit or it just may be a need of the hour.  But it's been a record that picturising Lord Ganesha has always been fruitful for the filmmakers.
Here we present you some of those songs, which are classic and would surely be heard during Ganesh Chaturthi celebration in coming days.

Hey Ganapati Bappa:
Now recalling from the beginning, the devotional song 'Hey Ganapati Bappa' is a must listen song, as it promises to conquer all your problems. Sung by Mahendra Kapoor, the song was beautifully picturised, having actress Mumtaz in the video and was composed by Narayan Dutt.

Deva o Deva: 
What could have been a better moment when Sholay movie 'Gabbar' fame,  Amjad Khan praised the Lord in the festive season of Ganesh Chaturthi on public platform, humming 'Deva o Deva'  in flick 'Humse Badhkar Kaun'.  The track is still on the top of the chart list when it comes to the celebration.

Ganpati Apne Gao Chale:
In 1990, came Agneepath where Amitabh Bachchan took the opportunity to make the immortal happy by humming 'Ganpati apne gao chale, Kaise humko chain Mile', carrying the Ganesha on his hand. Mithun Chakroborty too accompanied him in the song.


Deva Shree Ganesha:
And now when the history is recreated with its remake, how could the makers forget to relish those moments. This time it was Hrithik Roshan portraying Vijay Deenanath and worshiping lord Ganesha, which looked even more beautiful with great cinematography. The melody 'Deva Shree Ganesha' was hummed by Punjabi singer Sukhwinder Siigh and his rustic voice made it soulful.
Morya Re:
In 2006, Farhan Akhtar with 'Don' portrayed the Mumbaikar style of elephant-headed Lord Ganesh, picturising 'Morya Re'. The song was composed and sang by Shankar Mahadevan. SRK's charm added to the beauty of the flick and even the lord would have fallen to his acts.

Tera Hi Jalwa:
In 2009,
Salman Khan
with his trademark step grooved every spectator in 'Wanted'. Song 'Tera Hi Jalwa' became a nationwide hit. Prabhu Deva, Govinda and
Anil Kapoor
also gave their entrance in the video.
Sindoor Lal Chadayo:
This song is more like an aarti of Lord Ganesha which stunningly captures the essence of the festival in Sanjay Dutt starrer Vaastav. Hummed by Ravindra Sathe, the song is composed by Jatin-Lalit.
Bollywood just doesn't stop here. With every coming year, surely there would be more new tracks to praise Lord Ganesha. Till then the above classic tracks will rule as they are ruling today. Now wherever you see the celebrations for Ganesh Chaturthi at nearby venues, remember Bollywood always has its answer to it.