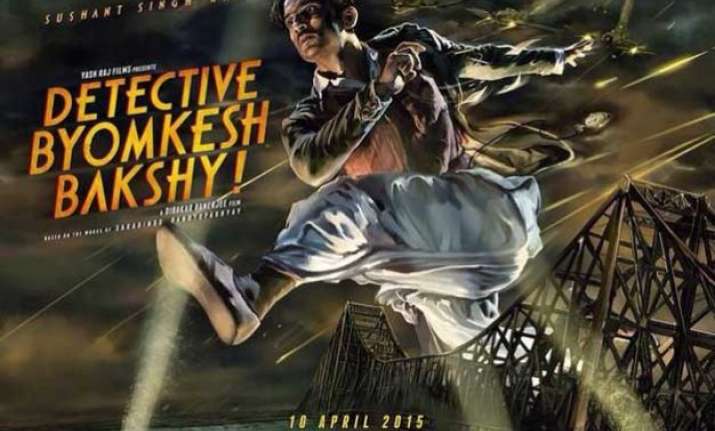 Detective Byomkesh Bakshy (Sushant Singh Rajput) gets to solve his first case that revolves around the disappearance of Ajit Bannerjee's (Anand Tiwari) father in Calcutta (now called Kolkata).
On his verge to solve the case he meets Satywati (Divya Menon) - sister of the local minister, Angoori Devi (Swastika Mukherjee) - a seductive dance in town, drug mafias and few freedom fighters who are in some or the other way linked to this disappearance mystery.
Couple of murders follows which makes Bakshi realize that the case that appears to be clear and simple from outside is actually dreadfully shocking and dangerous from inside.
Cast: Sushant Singh Rajput, Anand Tiwari, Swastika Mukherjee, Divya Menon
Director: Dibakar Banerjee
Rating: *** 1/2
While solving the case he pits himself against an unseen and unheard evil genius who is out to destroy the world. So will Byomkesh let go of the mystery or solve it with his extraordinary intelligence that Calcutta praises him for? Find it out yourself.
What would work for this mysterious drama?
The film comes packed with all the rudiments of a classic murder mystery - a determined detective, a femme fatale, mysterious circumstances and a complex background. The trailer left the audience very curious and its final product is undoubtedly edgy and shocking.
Here are some things that might drive the movie to success:
1. Saradindu Bandyopadhyay
People who have been a fan of Bengali bestseller writer Saradindu Bandyopadhyay's book Byomkesh Bakshy followed by its TV series with same name will be drooled over by this drama full of suspense on silver screen.
Byomkesh on big screen is as interesting as it is while reading it in book or viewing it as a TV show. It's mystifying with ample of shocking twists and turns at every corner and nook. Comparison would be drawn with Hollywood's Sherlock Holmes but Byomkesh is no inspiration of that English Detective. Byomkesh doesn't prefer well ironed suit like Holmes rather he feels comfortable in dhoti and sports shoes.
He possesses hesitation but in the end his work speaks in volumes. In the first part of the series (that we hope will be) he is learning and taking baby steps in this profession that would yield him many more cases in the future.
2. Dibaker Bannerjee and Incredible Mystery
Director Dibaker Bannerjee who has raised social issues in his earlier movies like Khosla Ka Ghosla, Oye Lucky Lucky Oye, Shanghai, this time goes the dramatized way and brings the novelty in the mysterious genre. He brings the imaginary Byomkesh Bakshy to the real world and gives him life.
The entire mystifying world he creates around one disappearance case is filled with equations that require a detective within us to wake up and participate in unfolding the truth.
You aren't allowed to miss a frame as you could miss out a lead. With every frame pops up a new question that keeps us in the guessing mode throughout until we finally get all the answers in the astonishing climax. Just like Hollywood's Sherlock Holmes, the execution is engaging with no option for the viewers to even blink an eye.
One mystery resolves and other takes birth and is all served with betrayal, bluffing, conspiracy and seduction. What equivalently support the movie are the settings, background score and actors' performances.
4. Picturization of Calcutta
You will be mesmerized by the minute detailing of the 1940s Calcutta, which is dealt with keen interest. From cars to clothes, everything accompany the settings and gives a realistic appeal.
5. Sushant Singh Rajput
It's hard to imagine this movie without Sushant Singh Rajput who himself is mysterious in this flick. He is a rude, arrogant and charming genius whom everyone loves to hate initially. But the simplicity with which he deals the case is worth noticing. He isn't loud while expressing happiness or short-tempered on missing a chance foolishly. Sushant is at ease and gives the best performance till date.  
6. Refreshing Cast
Anand Tiwari as the man hoping to find his uncle alive presents helplessness and desperation in equal measures. Swastika Mukherjee as a seductive queen shines in every bit. Her chemistry with Sushant is worth noticing. Divya Menon and Indian Idol fame Meiyang Chang are also seen in promising roles.  
7. Music
The rock music has been a major contributor in Bannerjee's most movies. Once again the rock background score makes this mystery-drama fun and vigorous. The OST has been composed entirely by independent music artists except from Sneha Khanwalkar, the only musician who had composed for a soundtrack before this.
What lets down?
The movie detailing Kolkata of 40's has Hindi as its language, as focusing more Hindi viewers would have been the case here. The Bhojpuri dialect in one scene too is inappropriate. Also at moments it's hard to understand few things that might require high intelligence.
IndiaTV verdict-
Three and a half stars for Detective Byomkesh Bakshi. It is the perfect answer to the much praised Hollywood's Sherlock Holmes. It makes you feel proud of your very own Indian detective. Also we wish it becomes a franchisee. Don't miss it!