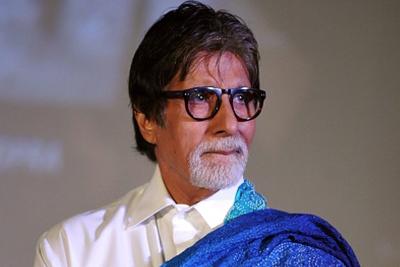 Amid the ongoing row over Delhi University student Gurmehar Kaur's campaign on social media targeting the ABVP, Bollywood megastar Amitabh Bachchan today had a word of advice for the student who has now backed out of the campaign saying this was all she could take.
"Jab aap kuchh social media par likhte hain. to aapko uspar pratikriya ke liye bhi taiyar rahna chahiye. (When you write something on social media, you must be ready to face the reactions on it too.)"
Amitabh was speaking to reporters on the sidelines of an event. However, he refrained from voicing his personal opinion on the issue.
What I feel about this is my personal view, if I tell it to you it will become public: Actor Amitabh Bachchan on #GurmeharKaur pic.twitter.com/DgJbfzoYbH

— ANI (@ANI) March 1, 2017
"What I feel about this is my personal view, if I tell it to you it will become public," Amitabh said.
Gurmehar's campaign was primarily aimed at campus violence, particularly against the ABVP in the backdrop of the violence at Ramjas College a few days ago. However, her actions drew a barrage of hate messages with some allegedly even threatening her with death and rape.
Her going public with the allegations led to the issue intensifying with several political and sports personalities jumping into it.
Geeta Phogat criticised Kaur saying, "If you speak against nation, people will obviously not like it.Irrespective of gender, the person won't be spared", her sister Babita Phogat said, "her view that her father was killed by war and not Pakistan was wrong for me. It's against our nation and martyrs".
Olympic medal winning wrestler Yogeshwar Dutt has also posted a meme, which may add fuel to the fire.
🙈🙈🙈 pic.twitter.com/SiH90ouWee

— Yogeshwar Dutt (@DuttYogi) February 28, 2017
Dutt's post has an image of Gurmehar along with Adolf Hitler, Osama Bin Laden and a Black Buck.
The picture of Hitler read: "Did not kill jews GAS DID." Bin Laden's image said: "Did not kill people BOMBS DID." And the Black Buck image said: "Bhai didn't kill me BULLETS DID", drawing reference to an incident which allegedly involved actor Salman Khan.
Poet and lyricist Javed Akhtar also tweeted, which triggered a fresh controversy, read:
If a hardly literate player or a wrestler troll a pacifist daughter of a martyr its understandable but whats wrong with some educated folks

— Javed Akhtar (@Javedakhtarjadu) February 28, 2017
Gurmehar is a student of Lady Shri Ram College, affiliated to Delhi University, and daughter of Captain Mandeep Singh who was killed in a militant attack in Jammu and Kashmir's Kupwara district on August 6, 1999, four days after Pakistani troops withdrew from Kargil.
Last week, Delhi University's Ramjas College witnessed violence between members of AISA and ABVP workers. The genesis of the clash was an invite to JNU students Umar Khalid and Shehla Rashid to address a seminar on Culture of Protests which was withdrawn by the college authorities following opposition by the ABVP.
After getting incessantly trolled on social media and receiving rape threats, Gurmehar withdrew the online campaign.