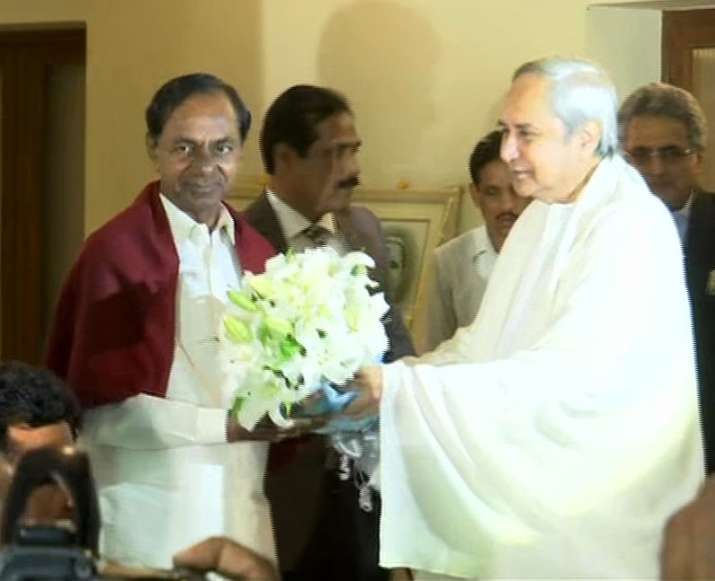 Telangana CM K Chandrashekar Rao on Sunday met Odisha CM Naveen Patnaik as part of his efforts to create a non-BJP and non-Congress front ahead of 2019 Lok Sabha Elections. Rao is on a four-day tour to meet various leaders to garner support for his proposed front. 
In his first meeting to the end, KCR today met his Odisha counterpart Patnaik and expressed urgency for unity among regional parties. 
"There's a dire need for the unification of regional parties as there's a strong need for an alternative to Congress and BJP," Rao told media after his meeting with Patnaik in Bhubaneswar today. 
"We need to talk to more people across the nation," he added. 
KCR is scheduled to meet West Bengal Chief Minister Mamata Banerjee on Monday and former Uttar Pradesh Chief Ministers Mayawati and Akhilesh Yadav later in the week. He will also make a courtesy call on Prime Minister Narendra Modi and is scheduled to meet Chief Election Commissioner Sunil Arora and Union ministers, with whom he will discuss issues related to the state
According to an official release, his party, the TRS, has hired a special aircraft for a period of one month for Rao's trips to various places, seeking support for his proposed front. 
However, the first leg of his tour may not have yielded desired results as Odisha CM chose to play it safe during the post meeting presser and claimed that his party has not begun deliberations on 2019 alliances. 
"We discussed several things including friendship of like-minded parties. We've not thought that (Parliament elections) far. He came to Odisha to offer thanks to Lord Jagannath for his tremendous victory," Patnaik told media in Bhubaneshwar on Sunday. 
A determined Rao, however, said that it was just beginning of the dialogue. "Country needs a change for which dialogue has begun, we're doing our part but nothing concrete has emerged. We've just begun the dialogue; we will meet again to discuss how to take things forward," the Telangana CM said. 
A former NDA ally, BJD chief Naveen Patnaik had recently slammed both Congress and BJP for "the bankruptcy of the national economy". "I will give you an example. The BJP and the Congress, how they bankrupt not only the national economy, but also the economy of the state," Patnaik told reporters while replying to a question on the Congress and BJP's demand of a farm loan waiver in Odisha on Friday.
Replying a question on the BJP's demand of farm loan waiver in the state, Patnaik said, "I think BJP talks more and does less. In 2014, they (BJP) had promised us of Special Category State status to Odisha. We all know what happened to that."
On the Congress's similar demand, Patnaik said, "The Congress demand will be a ridiculous reputation of their government (in Odisha) from 1995 to 1999. The treasury was bankrupt, salaries could not be paid and infrastructure suffered. It (farm loan waiver) hasnt paid in the past, it will not pay in the future."