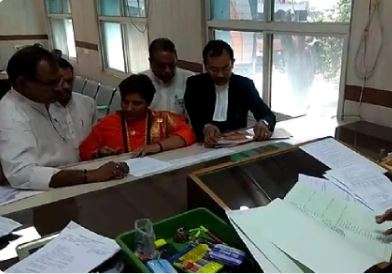 Bharatiya Janata Party (BJP) candidate Pragya Singh Thakur, on Monday, filed nomination from Bhopal Lok Sabha constituency. 
On Saturday, former Madhya Pradesh chief minister and senior Congress leader Digvijaya Singh filed his nomination papers for the Bhopal Lok Sabha seat.
Before filing his papers, Singh, along with his wife Amrita Singh, offered prayers at the Jharneshwar temple. The couple then went to receive the blessings of Swami Shankaracharya Swaroopanand Saraswati.
When asked about Thakur's candidature, he said, reported news agency IANS, "Why do you use the word Hindutva? The word Hindutva is not in my dictionary."
The polling will take place on May 12.