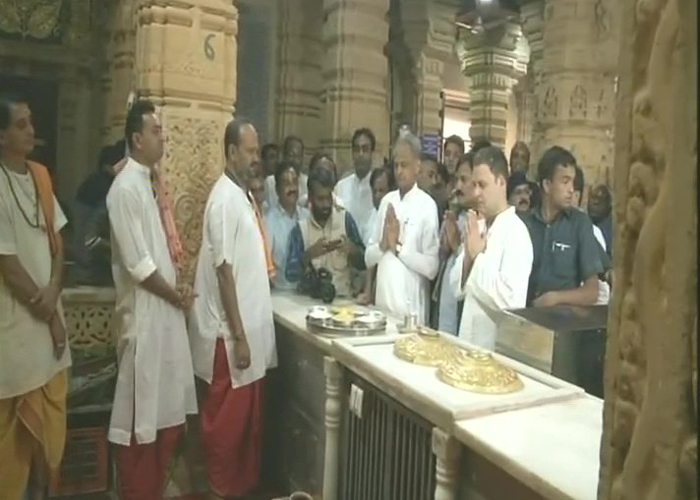 Congress vice-president Rahul Gandhi, who is on a two-day trip to Gujarat ahead of first phase of polling, on Wednesday started his sixth round of poll-campaigning after the state assembly elections were declared by visiting the famous Somnath temple. The Gandhi scion will today campaign in Gir-Somnath, Junagarh and Amreli.
He has been repeatedly ridiculed by the Bharatiya Janata Party (BJP) for visiting a string of temples in the poll-bound state during the election campaign.
Interestingly, both PM Narendra Modi and Rahul Gandhi are campaigning for the upcoming Assembly election in the state today.
After visiting the temple, Rahul will be welcomed by local Congress members at the district headquarters. Gandhi then will fly off to Visavadar in Junagadh district by chopper and hold a corner meeting there.
From Visavadar, taking a chopper, the Congress leader will go to Amreli district and hold a corner meeting at Savarkundla. From Savarkundla, the Gandhi scion will travel to Amreli city by bus. He will address a public meeting in Amreli at around 7 p.m and stay overnight at Amreli Circuit House.
On November 30, the second day of his poll campaign, Rahul will commence his rallies with a public meeting in Lathi. The Gandhi scion will have another public meeting in Botad and his will conclude his campaign with a sabha in Nari Chokdi in Bhavnagar.
The polling for the two-phase elections in Gujarat, having total 182 Assembly seats, will take place on December 9 and 14. Counting of votes will take place on December 18.