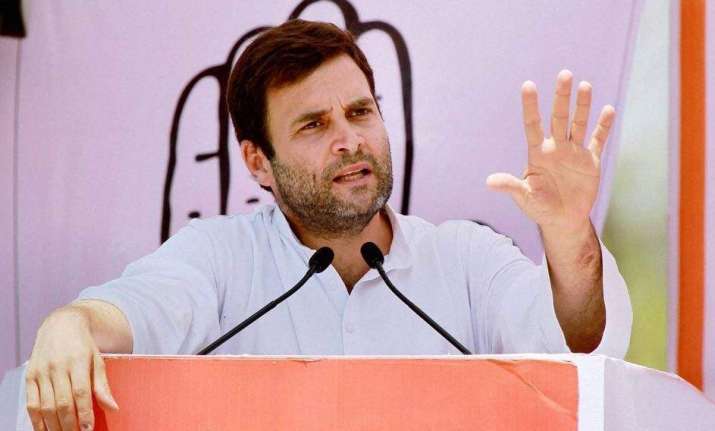 Congress Vice President Rahul Gandhi termed the BJP manifesto for Gujarat elections a 'rushed job to save face'. Gandhi, who had alleged that the ruling party's developmental agenda was amiss earlier in the day, claimed that the BJP Sankalp Patra 2017 was hastily put together to silence the opposition. 
"We raised questions about Manifesto and BJP hastily prepared it behind closed doors. Congress asked for it so Arun Jaitley released it. Otherwise why do they need it when they think they're going to govern here for 100 years? Such is their arrogance," Rahul Gandhi told public in a rally in poll-bound Gujarat's Anand.
At a poll rally at this tribal town in Chhota Udepur district, he said his party came out with a manifesto after consulting various sections of society, such as tribal communities, women and youth, and incorporating their demands. 
"The campaign in half of Gujarat has already ended.  Polling will be held shortly. But the BJP has not announced its manifesto yet. The BJP has not told you what it will do for you in the next five years," Gandhi said.  
"Modi-ji used to say that the BJP will rule in Gujarat for the next hundred years. But he is not saying a single word about the future of Gujarat at his rallies.  "Instead, Modi-ji talks about Afghanistan, Pakistan, China and so many global issues. This election is not about Modi or (Rahul) Gandhi...it's about THE people of Gujarat," he said. 
"The BJP is ruling here for the last 22 years. Now you have an opportunity to elect a government which would focus on you. People want to know what the BJP or Congress would do for them. While the BJP has not declared its manifesto, we held extensive dialogue with THE people and prepared our manifesto accordingly," he said. 
Keeping the pressure on, the soon-to-be Congress chief later mocked PM Modi's '15 lakh rupees promise' at Anand rally, "I won't lie and say that everyone will receive Rs 15 Lakh in their bank accounts but when we come to power here, people will feel that their voices are finally being heard after 22 years."
Rahul Gandhi also promised to start low-priced food canteens in Gujarat on the lines of similar project in Karnataka. 
With inputs from agencies