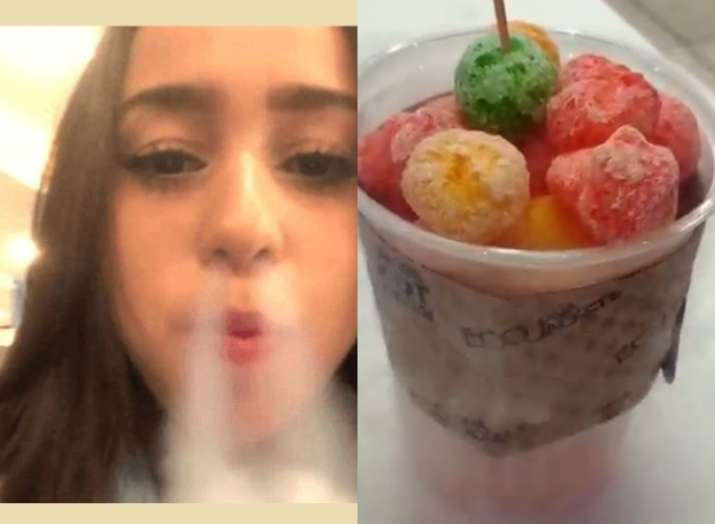 Even when Mumbai Police, Jaipur Police, Delhi Police and various other security officials have issued warnings against the viral Kiki Challenge, people are not ready to say bye to #InMyFeelings. While the scary challenge is still a hot topic everywhere, another challenge is making rounds on the internet and it is as dangerous as it gets.
A new 'Dragon's Breath'challenge has gone viral on the internet in which people are seen eating candies dipped in Liquid Nitrogen, after which their breath turns cold and steamy. It is called the Dragon's breath because when a person exhales, it looks like it. People are sharing a number of videos on social media doing his fun challenge.
As much fun as it looks, the health department has issued a warning against this challenges saying, 'liquid nitrogen can melt your mouth and internal organs'. The Suffolk County health department warned in its statement, ingestion of liquid nitrogen can cause severe damage to the mouth, esophagus, and stomach.
"Dragon's Breath is a food novelty made by freezing cereal puffs in liquid nitrogen. The frozen cereal is then served in a cup and eaten using a skewer or similar utensil," they wrote.  "Liquid nitrogen can cause damage to a person's skin and internal organs and, if inhaled, it can cause asphyxiation (lack of oxygen)."
Reports of people already getting affected by doing this challenge are making headlines. A child in Florida had to be hospitalized after he ate candies soaked in liquid nitrogen. His condition was so serious that his mother had to take it to Facebook to advise others against it.
Here are more videos of people doing this risky challenge-
Instagram ( Krystalan_c ) ; Playing with our food #DragonBreath 🍦🐉 pic.twitter.com/a8HWQEOoZR

— Jorge Blanco Güereña (@jorgeblancofw) November 19, 2016
Taste like cereal but it's cool😂🐉 #dragonbreath pic.twitter.com/6yJTDrH7O4

— Gabrielle🖤 (@lovemegabby21) March 30, 2017
Adventures in hanging out with Thomas! (2) #DragonBreath pic.twitter.com/r48PetHQKR

— Abidan Paul Shah (@AbidanPaulShah) July 14, 2018
#Dragonbreath🐲 for the first time cool though pic.twitter.com/mFdqOGqh8A

— Victoria Kasanganay (@VKasanganay12) April 4, 2018
Eating this was too much fun lmao #DragonBreath pic.twitter.com/xXNepgPdEp

— 🅰️🆖EL (@Effort_y0) July 3, 2016
#DragonBreath with LukeDuke first time. Oh that face 🤣 pic.twitter.com/iQ5wSM6Ujj

— @Tainya (@Tainya2323) June 4, 2018
In Vietnam I'm known as #dragonbreath pic.twitter.com/g5QlZWEts1

— seebach (@seebach) March 26, 2016
Well, it seems eating this dessert is not completely fun but a risk to life.