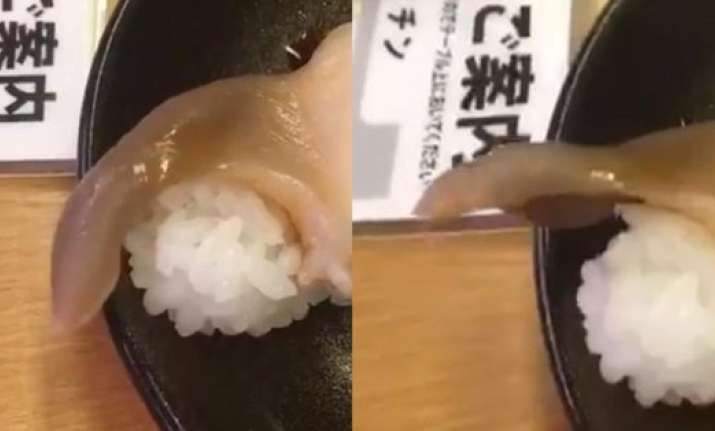 Who doesn't like seafood, but what if you order it and when the meal gets served, it starts moving on the plate. Sounds disgusting right?
You'll be amazed to know that one of such bizarre incidents happened with a sushi enthusiast in Japan. The diner was left gobsmacked after discovering his meal was so fresh that it waved at him moments before he devoured it. 
The restaurant-goer was eating at one of Japan's popular sushi chains, Sushiro, which is known for offering extremely fresh raw seafood. There, at the restaurant, he discovered that when the clam sushi or "hokkigai" was brought to the table the seafood which was placed on top of a rice roll was still moving when it was served. 
A squirmish video clip of the bizarre moment was shared on social media by a Japanese diner identified only as 'shoumizo3446'. In the video taken of the meal at first a slight ripple could be detected in the clam but as the dinner began to prod it with chopsticks the edge could be seen raising higher in the air.
The dish appears to almost wave at him as the customer and his companion laugh in amazement. Captioned, "the tragedy of Sushiro," the barely 30-second video went massively viral with over 6 million views and 59,000 retweets since being posted on February 11.
Check out the bizarre video:
スシローの悲劇 pic.twitter.com/DDLhXuuP0l

— ブッチー (@shoumizo3446) February 11, 2018
Some people commenting on the clip said the movement meant the clam had not been properly prepared by the chef. But others argued that at least the diner could be sure the meal was fresh, if it was still moving.
The diner, however, didn't seem to mind the moving clam. In tweets, he revealed that he did eat the dish and that it was "very delicious".