Follow us on Cattle slaughter laws in India, are they really helping these animals?
Lately Maharashtra government, made strict laws against cattle slaughter in the state which received mixed reactions from public. We appreciate the effort, but what's worth?
'Cattle Slaughter laws' are implemented across nation, including Delhi, Gujarat, Madhya Pradesh, Assam, Bihar etc - but strict punishable actions have been implemented only in Maharashtra & Haryana as of now.
Not adhering to these laws is considered as a cognizable offense, but what about taking strict actions for flouting important bans in the country such as 'plastic ban'?
The govt. is busy planning and framing laws to safeguard their lives, but what about their sustenance?
Do they actually care what these animals are eating!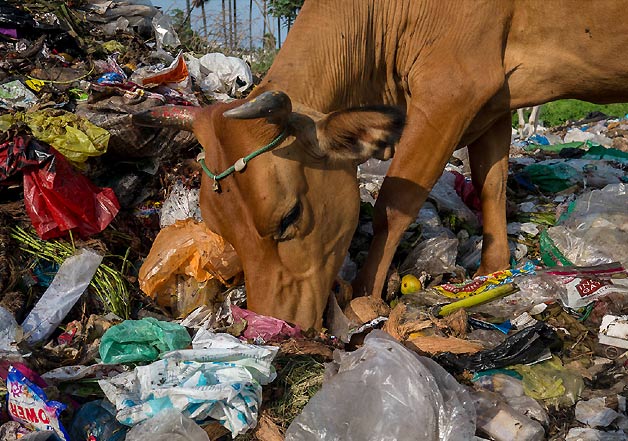 Image: clearimpression
At some places bulls, buffaloes, and bullocks are taken care off (we are assuming it here!) only till they continue to provide services worth living, like breeding, economical for draught, or milk (in the case of she-buffaloes) purposes
Once, they grow out of this they are let go to live off on roads, leaving them to fend food for themselves - and they end up eating roadside garbage, mainly comprising plastic and harmful waste material.
Maybe after watching this video, government would go deep into the matter and come out with laws preserving their lives for good.
Animal Aid Unlimited in India had to conduct an immediate operation on a stray bull which was sited with unexplained bloated stomach.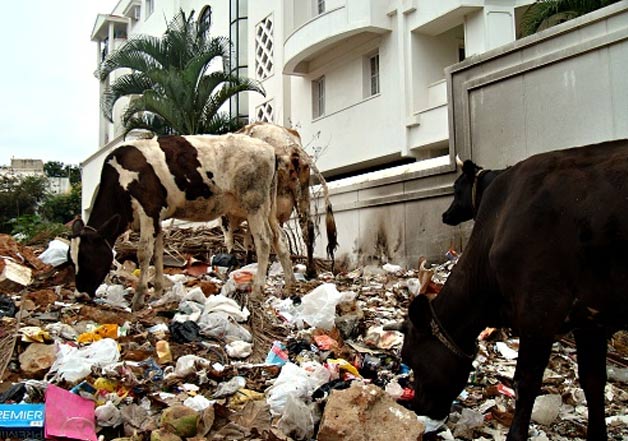 Image: onsite
The charity workers observed that this bull was roaming around the city road in condition which had them in doubt. They soon contacted some local vets who confirmed they the animal was not in normal condition.
Animal Aid volunteers took the bull to their aid center, where the vets immediately operated on the animal. The rescue operation was conducted a month ago, and ever since they uploaded the video - it went viral.
Since its upload, the video has been viewed by over 1 million people.
They posted a message along with video saying, "We rescued a sick street bull who had been living off of garbage his entire life. We knew his stomach was full of plastic and he urgently needed surgery. Our veterinarians surgically removed more than 20 kgs (40 pounds) of plastic and garbage that had been accumulating in his stomach for many years."
WARNING: The video is not for weak heart