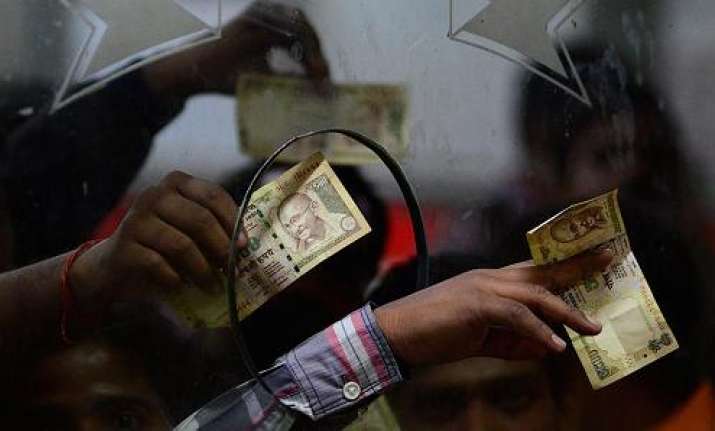 The International Monetary Fund (IMF) on Tuesday lowered India's growth projection to 6.7% in 2017.
This year's growth projection is 0.5 percentage points less than its previous two forecasts in April and July, attributing it to demonetisation and introduction of the GST. 
The IMF also lowered the India's growth for 2018 to 7.4%, 0.3 percentage points less than its previous two projections in July and April. 
Growth forecasts up for euro area, Japan, Emerging Asia, and Emerging Europe; down for UK, India #WEO https://t.co/kFoIlYrVxi pic.twitter.com/c7I96BAa78

— IMF (@IMFNews) October 10, 2017
The IMF says the global economy is gaining strength, with growth marked up at 3.6% this year and 3.7% for 2018.
Excerpts from World Economic Outlook, October 2017:
1. In India, growth momentum slowed, reflecting the lingering impact of the authorities' currency exchange initiative as well as uncertainty related to the midyear introduction of the country-wide Goods and Services Tax. 
2. In many emerging market and developing economies, the waning of pass-through effects from earlier exchange rate depreciations and, in some cases, recent appreciations against the US dollar, have helped moderate core inflation rates. However, much of the softening of core inflation in emerging market economies in recent months can be attributed to India and Brazil, where a one-off drop in food price inflation in June and high excess capacity in the economy after two years of recession, respectively, have also contributed to weaker inflation. 
3. The projected aggregate growth rate over 2017–22 is sustained by fast growth in the two largest countries, China and India, which account for more than 40 per cent of GDP (whether measured at purchasing power parity or market rates) and more than 40 per cent of the population of emerging market and developing economies.
4. Looking ahead, growth in commodity exporters is forecast to recover further, contributing significantly to the projected pickup in global growth between 2016 and 2022 (the last year of the WEO forecast horizon). Nevertheless, growth in commodity exporters is projected to remain well below its historical average and will account for only a modest share of total growth for emerging market and developing economies as a group. In contrast, growth is projected to remain high for the group of commodity-importing countries, which account for the lion's share of global growth, with higher growth in India and other commodity importers more than offsetting a slowdown in China. 
5. Global growth is forecast to increase marginally beyond 2018, reaching 3.8 per cent by 2021. With growth in advanced economies projected to gradually decline toward potential growth rates of about 1.7 per cent once economic slack is eliminated, this further pickup in global activity is entirely driven by emerging market and developing economies. In these countries, growth is projected to increase to 5 per cent by the end of the forecast period, with their impact on global activity boosted by their rising world economic weight. This forecast assumes some strengthening of growth in commodity exporters, though to rates much more modest than in 2000–15; a gradual increase in India's growth rate resulting from implementation of important structural reforms; continued strong growth in other commodity importers; and a lower but still high trend growth rate in China 
6. In the rest of emerging market and developing Asia, growth is expected to be vigorous and marginally higher than in the April 2017 WEO. Strong government spending and data revisions in India led to an upward revision of 2016 growth to 7.1 per cent (6.8 per cent in April), with upward revisions of about 0.2 percentage point, on average, for 2014 and 2015. However, the growth projection for 2017 has been revised down to 6.7 per cent (7.2 per cent in April), reflecting still lingering disruptions associated with the currency exchange initiative introduced in November 2016, as well as transition costs related to the launch of the national Goods and Services Tax in July 2017. The latter move, which promises the unification of India's vast domestic market, is among several key structural reforms under implementation that are expected to help push growth above 8 per cent in the medium term. 
Which economies are up, which are down? Let's look at the #WEO numbers https://t.co/AOKslVlA8Z pic.twitter.com/5Ab6p9fh68

— IMF (@IMFNews) October 10, 2017