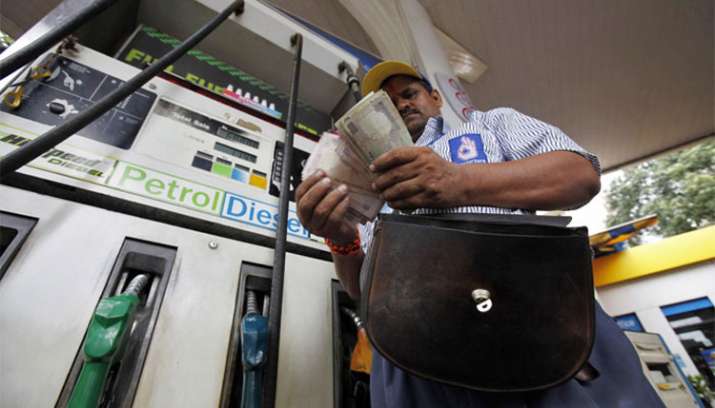 The skyrocketing petrol and diesel prices continue to burn hole in the common man's pocket as the rates witnessed hike for the eleventh straight day. 
On Thursday, the petrol prices were Rs 80.12 per litre in Kolkata, Rs 85.29 per litre in Mumbai and Rs 80.42 per litre in Chennai, while it went up to Rs 77.47 in Delhi. 
Diesel prices were at Rs 68.53 per litre in Delhi, Rs 71.08 per litre in Kolkata, Rs 72.96 per litre in Mumbai and Rs 72.35 per litre in Chennai.
Slamming the Centre for the steep hike in fuel prices, the Opposition threatened to hold nationwide protests. 
As Narendra Modi accepted an online fitness challenge from Indian cricket captain Virat Kohli, Congress president Rahul Gandhi was quick to dare the prime minister for a "fuel challenge", asking him to reduce the spiralling fuel prices in the country or face a nationwide stir by his party. 
"Dear PM, Glad to see you accept the @imVkohli fitness challenge. Here's one from me: Reduce fuel prices or the Congress will do a nationwide agitation and force you to do so. I look forward to your response," Gandhi wrote on Twitter using the hashtag 'FuelChallenge'. 
Meanwhile, Congress members in Goa's Panaji and Uttar Pradesh's Mathura travelled in horse-drawn carriages in the cities as a mark of protest against the fuel price rise. 
West Bengal Chief Minister Mamata Banerjee on Thursday said that the Centre the Centre should look into the issue of surging fuel prices not from a political angle but from the common man's point of view. 
The everyday increase in petrol and diesel prices is causing severe problem for the common people, Banerjee said. 
Reacting on the concern, Union Oil Minister Dharmendra Pradhan said that the Centre is deliberating on an "immediate solution" to deal with the rising fuel prices. "The oil ministry is of the view to bring petroleum products under the purview of the GST in order to bring down the prices of petrol and diesel. We are deliberating on an immediate solution to this problem till that time," he said on Thursday. 
The minister recalled the central government had in October last year reduced the excise on fuel by Rs 2 per litre keeping in view the interest of the poor people, adding the Centre is looking at both short and long term solutions this time.
The persistent rise in transport fuel prices in the country is largely attributed to the surge in crude oil prices and high excise duty. The price of Brent crude oil is currently over $79 per barrel.
Spiraling petrol and diesel prices have revived the demands of inclusion of automobile fuel under the GST, with the India Inc asking the government to take immediate measures.