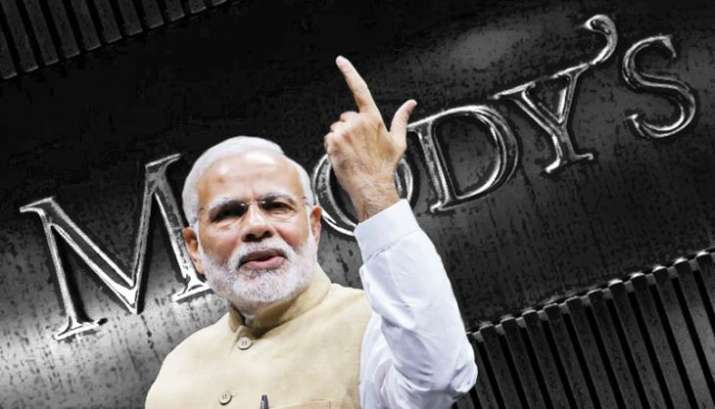 In what came as a shot in the arm to Prime Minister Narendra Modi's agenda of undertaking reforms, international rating agency Moody's Investor Service on Thursday upgraded India's rating a notch to Baa2 from Baa3, while improving its outlook on the rating from positive to stable.
The rating upgrade, which came after a span of over 13 years, has come as an endorsement of the structural reforms the government has undertaken in the last 3-4 years, the Centre has claimed.
Speaking to the media following the rating upgrade on Friday, Finance Minister Arun Jaitley said that the government welcomed the development, and though belated, the rating upgrade is a "recognition of all the positive steps which have been taken in India in the last few years, which has contributed to strengthening of Indian economy."
The sentiment that a visibly buoyed Finance Minister conveyed in his address today are a cue from what lies within the report itself. One of the primary reasons Moody's has cited in its report on upgrading India's rating is the government's reform push, one that it sees "improving India's business climate, enhancing productivity, stimulating foreign and domestic investment, and ultimately fostering strong and sustainable growth".
FM Jaitley, in his address, also sought to target the government's detractors, saying those who doubted the BJP government's reforms agenda would do better to introspect now.
The confidence that Jaitley exuded today lie not just in the Moody's' report but finds its genesis in the tough measures this government has undertaken, and stood by despite stiff political opposition.
Here are 5 key reform measures undertaken by Prime Minister Narendra Modi that helped India clinch the rating upgrade:
Goods and Services Tax
Touted as the biggest taxation reform in India since independence, Prime Minister Modi and his government faced stiff opposition from rival parties while pushing for its early adoption in Parliament and its subsequent implementation. Several critiques of the government have pointed to how a 'hastily-implemented' GST had dealt a blow to India's economic growth and curtailed business activity.
What Moody's says on GST
"The recently-introduced Goods and Services Tax (GST) will, among other things, promote productivity by removing barriers to interstate trade," Moody's report says. While recognising that GST may have undermined growth over the near term, -- Moody's expects real GDP growth to moderate to 6.7% in the fiscal year ending in FY2017 – "as disruption fades, assisted by recent government measures to support SMEs and exporters with GST compliance, real GDP growth will rise to 7.5% in FY2018, with similarly robust levels of growth from FY2019 onward".
Demonetisation
One of the most disruptive reform measures undertaken by the government in the recent past, Prime Minister Narendra Modi on November 8, 2016, announced the demonetisation of old Rs 500 and Rs 1,000 notes, wiping off 86 per cent of the currency in circulation. The move faced stiff criticism – both from opposition parties as well as economists. It formed the government's basis to attack the Centre for its 'anti-people' stand and still continues to form the bedrock of the Opposition's anti-BJP political agenda in polls. Despite turmoil in the subsequent days after the notes ban was announced, PM Modi stuck to his decision and said it would help eradicate black money, curtail terror-funding and help cleanse India's financial system.
What Moody's says on demonetisation
"Government efforts to reduce corruption, formalize economic activity and improve tax collection and administration, including through demonetisation, both illustrate and should contribute to the further strengthening of India's institutions," Moody's said.
Recapitalisation of state-owned banks
About a month ago, the central government announced a mega plan of Rs 2.11 lakh crore to recapitalise stressed public sector banks which have been battling bad loans and loan defaults. This, coupled with a slowdown in lending has hit banks hard and the government's attempt is to help banks sustain in the face of headwinds.
What Moody's says on bank recap
"Recent announcements of a comprehensive recapitalization of Public Sector Banks (PSBs) and signs of proactive steps towards a resolution of high NPLs through use of the Bankruptcy and Insolvency Act 2016 are beginning to address a key weakness in India's sovereign credit profile.
"While the capital injection will modestly increase the government's debt burden in the near term (by about 0.8% of GDP over two years), it should enable banks to move forward with the resolution of NPLs through comprehensive write-downs of impaired loans and increase lending gradually. Over the medium term, if met by rising demand for investment and loans, the measures will help foster more robust growth, in turn supporting fiscal consolidation."
Aadhaar push and DBT
The government's push for a biometric identity system through a 12-digit unique ID, Aadhaar, has been lauded as a significant measure towards reduced corruption. Prime Minister Narendra Modi has time and again pointed to the benefits of Aadhaar, saying it has helped the government check leakage in subsidies and that linking Aadhaar with subsidies is increasingly ensuring that the benefits of government measures reach the right beneficiaries.
What Moody's says on Aadhaar and Direct Benefit Transfer  
"The Aadhaar system of biometric accounts and targeted delivery of benefits through the Direct Benefit Transfer (DBT) system (are) intended to reduce informality in the economy."
"Measures which increase the degree of formality in the economy, broaden the tax base (as with the GST), and promote expenditure efficiency through rationalization of government schemes and better-targeted delivery (as with the DBT system) will support the expected, though very gradual, improvement in India's fiscal metrics over time."
Reforms for Transparency
The ratings upgrade by Moody's has strengthened the government's resolve to continue of its path of structural reforms, like what it has done since coming to power in 2014, FM Jaitley said today. Economic reforms and increased transparency have been the motif of PM Modi's economic policies and reflects in the government's decisions as well. The government knows it needs to continue with its push for more reforms to match its promises of eradicating corruption and boosting economic growth.
What Moody's says on future reforms  
"Government efforts to reduce corruption, formalize economic activity and improve tax collection and administration, including through demonetization and GST, both illustrate and should contribute to the further strengthening of India's institutions. On the fiscal front, efforts to improve transparency and accountability, including through adoption of a new Fiscal Responsibility and Budget Management (FRBM) Act, are expected to enhance India's fiscal policy framework and strengthen policy credibility.
"Adoption of a flexible inflation targeting regime and the formation of a Monetary Policy Committee (MPC) have already enhanced the transparency and efficiency of monetary policy in India. Inflation has declined markedly and foreign exchange reserves have increased to all-time highs, creating significant policy buffers to absorb potential shocks."