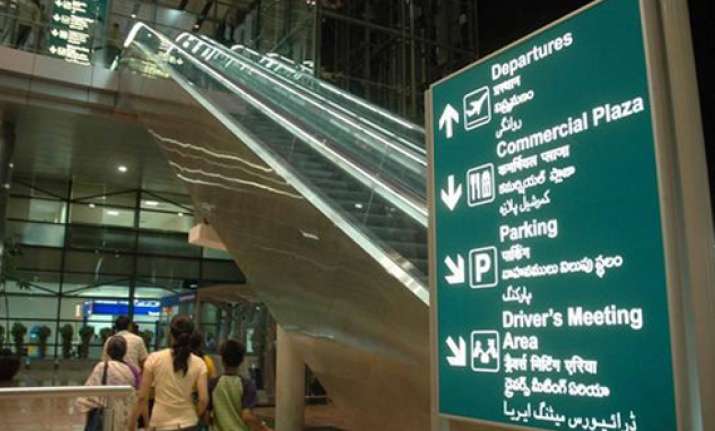 Male, Dec 4: Maldives on Tuesday asserted that it will go ahead with the takeover of the Male International Airport from GMR later this week and said they along with the Indian firm have "worked out" a plan to hand over the running of  the airport "without any hiccups".
However, the Indian infrastructure major has denied that any deal for handing over the airport project has been worked out with Maldives.
"Yes, we will go ahead with the takeover of the Airport as planned and on schedule," President Mohamed Waheed's press secretary Masood Imad said.
Asked if the government would rope in police or military since GMR had earlier said it will continue to operate the airport, Imad said, "At this moment I do not see the possibility of having to apply any type of force, or police intervention.
"The Acting Minister of Transport is in touch with the senior officials of GMR operations in the Airport and together they have worked out a plan to hand over the running of the airport without any hiccups".
However, GMR Male International Airport CEO Andrew Harrison told PTI that no deal has been worked out but said a meeting did take place today with the Maldivian authorities over the issue.
"The Singapore High Court has issued an injunction which clearly prevents MACL or the Government of Maldives or any of its agents from taking any action that interferes with GMIAL operating the airport.
"We remain resolute in our position and there is no question of an offer being made and certainly no question of any alleged offer being accepted as we will simply not agree to our rights nor the injunction being undermined in any way," he said.
Harrison said another meeting would take place tomorrow. "The Acting Transport Minister explained that he  was not a legal person and he would therefore arrange for his legal team to meet our lawyer tomorrow to go  discuss the legal matters and in the meantime he stated that we should maintain dialogue," he said.
Meanwhile Imad said that they will compensate GMR. As per the contract signed in 2010 during the regime  of previous President Mohamed Nasheed, Maldives would have to pay about $400 million in case of  termination.
"Yes... Having said so, we have also engaged proactively on this issue of payments to GMR. I do not want to speculate on the figures and numbers at this time, I would rather (see) it be resolved in the Court," Imad said.
He added that Maldives will go ahead with arbitration over the issue of payments in a Singapore Court.
The Maldives government had on November 27 terminated the $500 million airport modernisation project handed over to GMR saying the agreement was "void" and was signed under "dubious" conditions.
Though the Singapore High Court had stayed the termination notice yesterday, Maldives has made it clear that they will not honour the order.