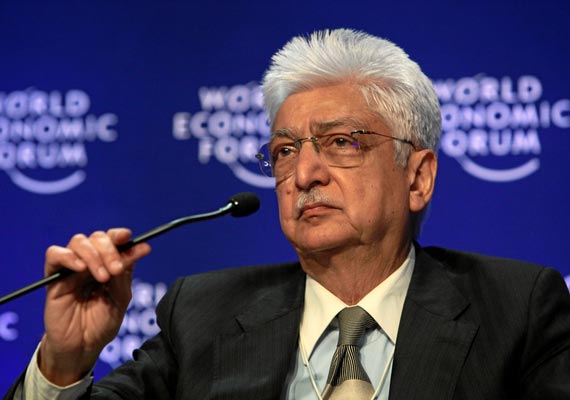 New Delhi: Azim Hashim Premji (born 24 July 1945 in Bombay Presidency) is the founder of Wipro and has been its Executive Chairman and Managing Director since September 1968. Currently with a wealth of $13.8 billion (as of October 2013) he is the fourth richest Indian as per the Forbes magazine.
Considered to be one of the pioneers of the Indian software industry, he is widely acknowledged for transforming his company "Wipro Limited", which was a FMCG firm during the 80s, to one of the leading blue chip technological organizations in India. Premji has been honored with several awards and honorary doctorates including the "Padma Vibhushan", India's second highest civilian felicitation in recognition of his life time achievements in the business world.
Premji was born in Karachi, to an affluent Gujarati,  Shia Nizari Ismaili Muslim entrepreneur MH Hasham Premji who owned the Western India Products (which later became Wipro) which made hydrogenated vegetable oils and fats. It was listed in Bombay Stock Exchange in 1945. His grandfather too was an entrepreneur and popularly called the rice king of Burma.
Premji was forced to leave his studies in electrical engineering from Stanford University, California, USA at the age of 21 to take over the family business when his father suddenly died in 1966. Soon after taking charge of the company, it went into diversification spree, including products like bakery fats, ethnic ingredient based toiletries, hair care soaps, baby toiletries, lighting products, and hydraulic cylinders. Thereafter Premji made a focused shift from soaps to software.
The Amalner-based vanaspathi manufacturing company, the Western India Product later became Wipro Products Ltd, Wipro Technologies and Wipro Corporation. Premji soon led an ambitious expansion into manufacturing light bulbs with General Electric and other consumer products including soaps, baby care products, shampoos, powder etc.
In the 1980s, Wipro entered the IT field, and got involved in making omputer hardware,  software development and related items, under a special license from Sentinel. This led to the company growing within a few decades to a $6 billion diversified, integrated corporation in services, medical systems, technology products and consumer items with offices worldwide.
Azim Premji is married to Yasmeen, the couple have two children, Rishad and Tariq. Rishad is married to Aditi and is currently the Chief Strategy Officer of IT Business, Wipro. Premji has been recognized by Business Week as one of the Greatest Entrepreneurs for being responsible for Wipro emerging as one of the world's fastest growing companies. In 2011, he has been awarded Padma Vibhushan, the second highest civilian award by the Government of India.
Here are 10 great quotes by the man himself:
People are the key to success or extraordinary success.