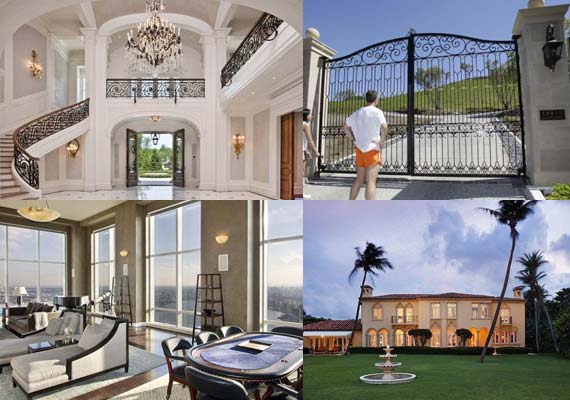 New Delhi, July 24: From a heated flooring system to a sprawling golf course, these homes have got it all. Living in these extravagant homes will be ever a dream for billions of people. Still, there's a certain degree of delight and excitement that we feel in ogling the mansions and penthouses owned by the fabulously rich. Here is a list of top ten owned by filthy rich people in America as per Forbes.

Silicon Valley Mansion, Los Altos Hills, Calif.
Owner: Yuri Milner, worth $1 billion
Purchase Price: $100 million in March
Moscow-based billionaire and founder of investment firm DST Global, has coughed up nearly $100 million while purchasing a mega-mansion in Silicon Valley, California. Milner is an investor in Facebook, Zynga and Groupon via his DST firm. He also built Mail.ru, a Russian Internet company which last year listed on the London Stock Exchange. Milner's primary residence remains in Moscow, where he lives with his wife and two daughters.
The mansion in Silicon Valley occupies 25,000 square feet and is located on an 11-acre estate. Located on a hilltop, the property boasts of five bedrooms, nine baths, a tennis court and its own carwash. The property was built in 2009 by ESS Technology founder Fred Chan who ultimately sold the property to Milner. The partly sunken first floor has two bedrooms, a game room, a security room, a maid's room, an exercise room, a sauna and spa, an indoor pool, two three-car garages and a carwash. The second floor has additional bedrooms, two dining rooms and a living room.