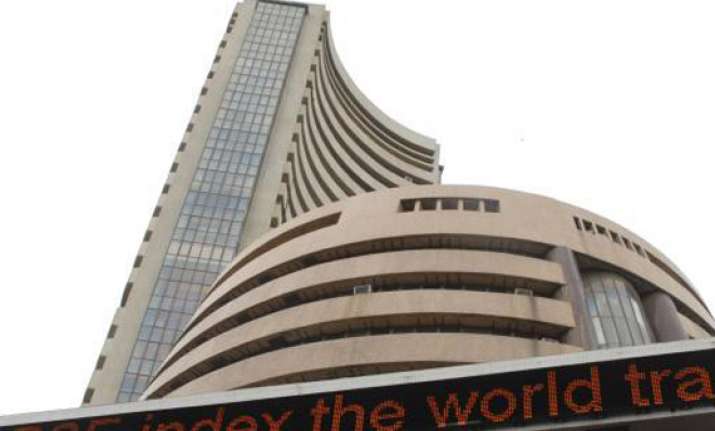 Mumbai, Jun 5:
After surging 150 points, the BSE Sensex lost the initial momentum but closed above the crucial 16,000-level today with a meagre 32-point gain on fresh concerns over falling rupee and weak Eurozone data.
After opening higher, the Sensex touched the day's high of 16,138.29 taking cues from firm Asian markets and HSBC Purchasing Managers' Index (PMI) showing a marked rise in Indian service sector activity.
Key indices in China, Hong Kong, Japan, Singapore, South Korea and Taiwan closed with gains up to 1.5 per cent.
However, the Indian markets started losing gains after the rupee, which touched a one-week high yesterday, started moving down to towards the 56-level.
The mood was further dampened after Eurozone PMI Composite Output Index signalled the steepest rate of decline in manufacturing and services output in Eurozone since June 2009.
Analysts said investors were already on their toes ahead of a likely emergency meeting of finance chiefs of the G-7 countries to discuss Eurozone's deepening debt crisis.
The Sensex finally closed at 16,020.64, the first closing above 16,000-level after two days, up 32.24 points over yesterday's closing of 15,988.40.
"Markets opened in green taking cues from firm Asian markets, edged higher later in the day on good PMI of India.
But was unable to sustain the higher levels and trimmed gains due to weak rupee and weak PMI data of Eurozone," said Sharmila Joshi, Head Equity, Fairwealth Securities.
Out of the 30-share index, 18 stocks led by L&T (3.08 pc), NTPC (1.98 pc) and SBI (1.66 pc) ended higher while 12 counters including Tata Motors (3.15 pc), Bharti Airtel (2.58 pc) and ITC (1.89 pc) closed with losses.
On similar lines, the 50-share NSE Nifty rose by 15.15 points to 4,863.30, after touching the day's high of 4,898.95. Meanwhile, the rupee today hit an intra-low of 55.9 against the dollar and was trading at 55.7-levels on back of a sharp fall in euro and dollar demand from importers.
European stocks were trading mixed in their early trade.  France's CAC was up by 0.50 per cent while Germany's DAX was declined by 0.75 per cent. London's stock market was closed today.
Eurozone Composite PMI dat showed that German output fell for the first time since last November and, although only modest, the rate of decline was the fastest for almost three years. The downturns in France and Spain accelerated, while Italy saw an easing in its rate of decline but remained firmly mired in a steep downturn.
"Based on these numbers, it would not be surprising to see GDP for the region contract by 0.5 pc in Q2, though an even steeper decline could be seen if the June data disappoints," said Chris Williamson, Chief Economist, Markit.
Among Sensex, major gainers today were L&T (3.08 pc), NTPC (1.98 pc), SBI (1.66 pc), Hindalco (1.60 pc), BHEL (1.47 pc), HDFC Bank (1.45 pc), Reliance (1.39 pc), Cipla (1.31 pc), Hero MotoCorp (1.23 pc) and TCS (1.15 pc). The losers included Tata Motors (3.15 pc), Bharti (2.58 pc), ITC (1.89 pc), DLF (1.48 pc), Coal India (1.09 pc), HUL (1.07 pc), Jindal Steel (1.07 pc) and Sun Pharma (1.03 pc).  Among the sectoral indices, the BSE-Capital Goods firmed up by 2 per cent while the losers were led by BSE-Realty (1.37 pc) and the BSE-FMCG (1.09 pc).
The market breadth turned positive as 1,406 finished with gains while 1,291 shares ended with losses. The total turnover moved up to Rs 1,819.59 crore from Rs 1,759.61 crore yesterday.
Foreign institutional investors were the net sellers to the tune of Rs 637.14 crore yesterday as per provisional data from the stock exchanges.