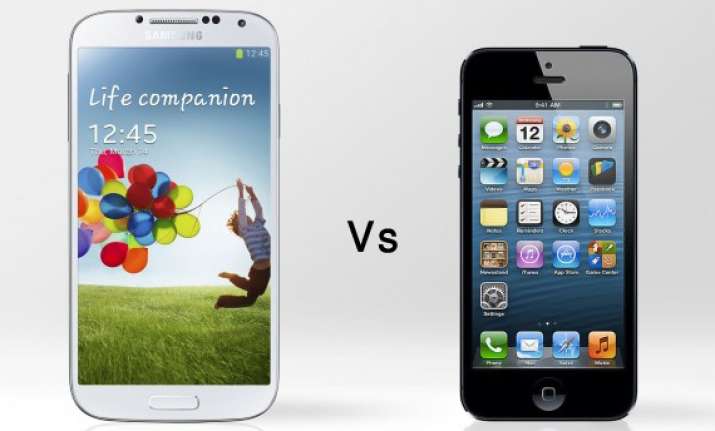 New Delhi, June 25: Samsung Galaxy S4 or iPhone 5? It's a tough question which is hard to answer, as there are voices both in favour and against both the Apple/Android device.
As it is known Samsung Galaxy S4 is a superphone. It's got a 5-inch 1080p Super AMOLED screen, a superfast quad-core 1.9GHz Snapdragon 600 processor, 2GB RAM, LTE, NFC, and a 13MP camera. It comes with a powerful 2600mAh battery, and an IR blaster for controlling your home entertainment system. It runs Android 4.2.2 with Samsung's heavy TouchWiz skin on top of it. If you're familiar with the Galaxy S III, then the S4 looks strikingly familiar.
A latest survey said the Samsung's latest flagship smartphone, the Galaxy S4, took the top spot at three of the four major U.S. carriers' stores in the month of May, while the iPhone 5 still remained the most popular smartphone at AT&T retail. In April, when the Galaxy S4 saw limited availability, the iPhone 5 was the top selling smartphone at all four major U.S. carrier stores. But as shipments of the Galaxy S4 began to increase, Samsung's latest Android handset took over in May — but not at AT&T.
The following analysis shows the difference between the two ssmartphones on two fronts: the performance and camera.
Performance
Comparing an iOS device to an Android device is not always easy. Racing the iPhone 5 against the quad-core 1.9GHz Qualcomm Snapdragon 600 processor-powered Galaxy S4 means that the Apple device has met its match. While both devices are lightning fast – loading webpages in seconds, streaming video seamlessly and dealing with power-hungry apps with ease – after some period you'll find that the S4 is a pleasure to use.
Comparatively, the Galaxy S4's processor has more cores (four to the iPhone's two), and is clocked higher (1.9 GHz to the iPhone's 1.3 GHz).
The GS4 also has double the RAM offered in iPhone (2 GB versus 1 GB) and scores much higher than the iPhone 5 in a couple of benchmarks scoring 3227 and 41fps in Geekbench 2 and GLBenchmark compared to the iPhone 5's 1650 and 38fps. However, the iPhone 5 got a better time in SunSpider - 903ms against 1092ms.
Besides doing well in benchmarking tests, the Galaxy S4 is great when it comes to opening of apps, multitasking and the overall speed.
The iPhone 5's dual-core 1.2GHz processor might look measly in comparison, but there are hardly any issues with its performance. That's probably because all iOS apps are optimised to work on the iPhone. The buttery-smooth iOS in real world use has still no match yet. There is no doubt that the A6 processor inside the iPhone 5 is a fast chip. The dual-core ARM v7 combined with a triple-core GPU puts it well ahead of the iPhone 4S.
                                        Processor speed    Cores    RAM
Samsung Galaxy S4    1.9GHz                      4            2GB
Apple iPhone 5              1.3GHz                     2             1GB
                                         GeekBench 2    GLBenchmark    SunSpider
Samsung Galaxy S4        3227                 41fps              1092ms
Apple iPhone 5                  1650                 38fps              903ms
Verdict:

Despite GS4 having better technical specs, the iPhone 5 holds its own in most casual day-to-day use. The S4 has an edge, but you'll hardly find anything to complain about with either phone's performance.