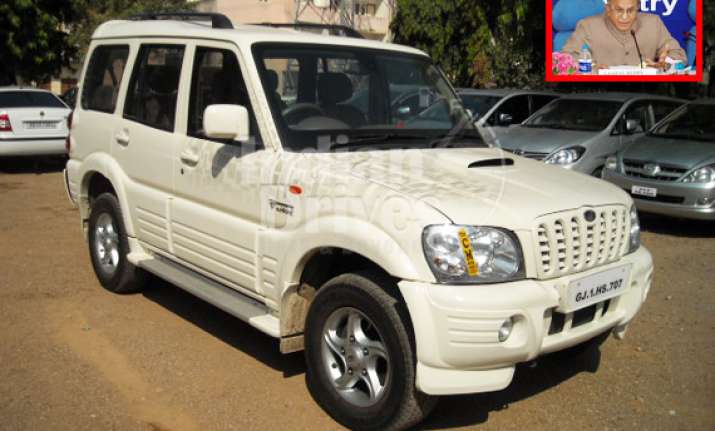 New Delhi, Jan 27: Oil Minister S Jaipal Reddy today asked Finance Minister Pranab Mukherjee to impose additional excise duty of Rs 80,000 on diesel vehicles and grant 10-year tax holiday for oil and gas hunt and refineries in the forthcoming Union Budget.

Reddy met Mukherjee this afternoon with a long-list of proposals concerning the oil and gas sector for consideration in Budget 2012-13.

Sources said Reddy sought imposition of extra excise duty of Rs 80,000 on purchase of diesel vehicles to "discourage the dieselization of the economy" and bring additional revenues which can go towards meeting the fuel subsidy. 

The oil ministry also demanded scrapping 5 per cent customs or import duty on liquefied natural gas (LNG) to reduce cost of imported fuel for core sectors of fertilizer and power plants.

It argued that cleaner LNG should be treated at par with crude oil, which at present attracts nill customs duty. 

Also, it renewed is age-old demand for granting declared goods status to natural gas and LNG so that the environment friendly fuel attract a uniform sales tax of 5 per cent instead of current system of varied taxes ranging from 12.5 per cent (Gujarat and Maharashtra) to 20 per cent (in Assam). 

To buttress its claim, the ministry said like coal, which has been granted the declared goods status, gas is a preferred fuel for power generation with 40 per cent of electricity being generated using the environment-friendly fuel. 

Gas replaces liquid feedstock in the fertilizer sector as well as in other applications and therefore qualifies for the declared goods status as has been granted to crude oil. 

Besides, piped natural gas is being used as cooking fuel in households and as CNG in transport sector replacing polluting liquid fuels.

Sources said Reddy was for inclusion of crude oil and petroleum products under the proposed Goods and Service Tax (GST) regime.

Crude oil, petrol, diesel and ATF are now kept outside GST. The central and state taxes would continue to be levied at the prevailing rates on these products.