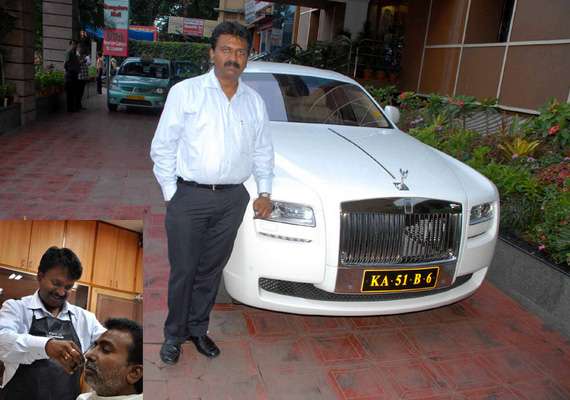 Bangalore: In the business world, it is often said that if you have some foresight, are honest and can work hard, then nothing can stop you from earning decent amount of money or getting rich. The story of Ramesh Babu from Bangalore is a glaring example of how you can surge ahead in this cut-throat competitive business environment while doing things that you love.
Bangalore resident Ramesh Babu, is a star in his own league who runs the business of cutting and styling hair. He is an ordinary businessman, with an extraordinary wealth. He is a billionaire and owns a rent-a-car fleet of 67 alternative cars.
"Somehow, things have clicked for me," says Babu, whose clients embody politicians, military officers as well as movie stars such as Salman Khan, Aamir Khan as well as Aishwarya Rai Bachchan.
On most of the days, Ramesh comes to his workplace driving a Rs 3.1 crore Rolls Royce Ghost. In his words he handles the car's dashboard with the same deft touch and care as when he is shaping somebody's coif. The interesting part is that there are only five other people in the city who own such a luxurious car. Babu had purchased the Rolls Royce with his own hard earned money.
Though his income from the saloon is modest, it is the lucrative luxury car rental business that has earned him his fortune. That also makes him one of India's richest hairstylists. The man has a collector's passion for fancy cars which he looks after with utmost care.
However, things were not so easy back in 1989. Ramesh's father who owned a small saloon died when Ramesh was a young boy and and the only means for his survival was a barber shop that his father left for him. His mother leased the shop for Rs 5 a day and took up work as a domestic help to make ends meet.
"I remember the day my father passed away, leaving our family and his barbershop," he recalls in a wispy voice. In 1994, Ramesh preferred to run his father's shop rather than continue his education. The salon, named Inner Space, was in a shopping complex by the school where he studied. It soon became a trendy styling outlet for youngsters.
While running the saloon, he cherished the dream of owning a car. Three years later, Babu purchased a Maruti Omni to rent it to people for their personal use. This became the turning point in his life. One of his mother's employers advised him to lease the Omni to Intel, the company she worked with.
The returns through the car rental business were encouraging and they supplemented his income from the salon. As his reputation grew, so did the car rental business.
By the end of 1990, he was running a successful taxi operation business by the name of Ramesh Tours and Travels.
In 2004, he got into the luxury car rental and self-drive business after the government opened up the tourism sector. Ramesh Tours and Travels hasn't looked back since.
He first invested in a Mercedes E Class luxury sedan that cost him Rs 38 lakh. The fleet grew with three more Mercedes cars and four BMWs, which is, however, dominated by dozens of Toyota Innovas.
At the moment his fleet consists of around 200 cars, vans and mini-buses, including imported vehicles—a Rolls-Royce Silver Ghost, Mercedes C, E and S class and BMW 5, 6 and 7 series. He has a fleet of imported Mercedes vans and Toyota mini-buses.
"This is more of a passion," he says. As for being a barber, "I will continue to be one as long as my hands are healthy."
Amazingly, Ramesh charges Rs 75000 a day for the Rolls and his usual clients are corporate bigwigs and visiting Bollywood and Tollywood stars.
However, Ramesh's fancy automotive fleet does not include only cars, he also owns a Suzuki Intruder high-end bike that is worth Rs 16 lakh. He rides this bike during weekends and uses it only for private purposes.
Even today, being such a rich man he did not forget his roots. He cuts the hair of his regular customers for just Rs 65.
Babu owes his success to doing what he thought was best. "Whatever I did, I did well, that's all I can say," he smiles.