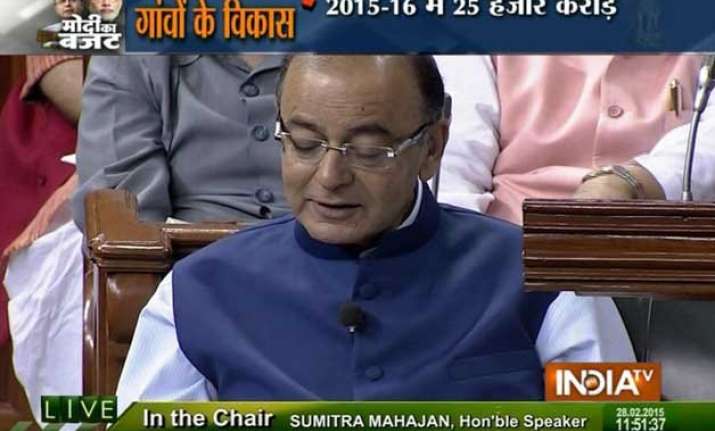 Defence allocation for this fiscal is Rs 2,46,727 Crore
New Delhi:
Presenting the Union Budget for the fiscal 2015-16, Finance Minister Arun Jaitley on Saturday said the state of the country's economy was better placed today with its credibility re-established by a series of measures taken by his government.
He also said allocations for a host of social sector projects was being enhanced substantially along with new social security schemes. The FM particularly said that the allocation for the rural job guarantee scheme will be the highest ever.
The Finance Minister left income tax slabs unchanged. He also reduced Corporate Tax to 25 per cent from 30 per cent  for next four years.
Jaitley allocated Rs 2,46,727 crores to Defence in the Budget.
Below are the live updates of Union Budget 2015-16
Finance Minister's speech concludes with commitment to well being of all 'Sarve Bhavantu Sukhinah, Sarve Santu Niramayah'
Even our worse critics have acknowledged that we have moved rapidly: FM
We have also given a road map for the future in the budget speech
Individual tax payer will benefit to the extent Rs 4,44,200/- from the exemptions announced
Rs 50000 deduction in taxable income for contribution to NPS
We have been consistent in what we have said and what we are doing: Jaitley
Transport allowance, which is currently 800 per month, has been increased to 1600 per month
All contributions to Sukanya Samridhi scheme to be tax free
Clean energy cess increased from 100 to 200 Rupees per metric ton of coal to finance Green Energy Fund
Increase in limit of tax deduction for health premium from Rs 15000 to Rs 25,000 annually
Consolidated Service tax increased to 14 pc
100 per cent tax exemption in CSR activities for Clean Ganga Fund and Swachh Bharat Kosh